Olympics sailing: China's Xu Lijia pips Marit Bouwmeester to gold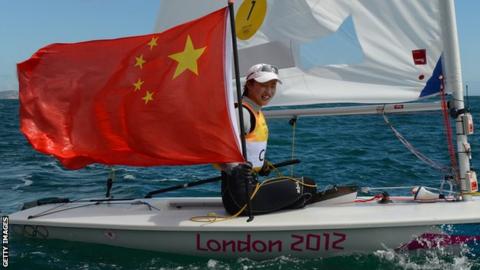 China's Xu Lijia won Olympic gold in the women's Laser Radial class after a four-way shoot-out in the final race.
Xu was first across the line ahead of Dutch sailor Marit Bouwmeester, who took silver.
Belgium's Evi van Acker claimed the bronze but Ireland's Annalise Murphy was edged out in fourth.
Britain's Alison Young, 25, finished fourth in the medal race, one place ahead of Murphy, but ended fifth overall in her first Olympics.
"I just give it all for joy and I gave it my best for Weymouth and the world and my country, China," said Xu, who won bronze in Beijing.
"So long as I kept my calm and did my best, the end result would not be bad. Everyone was nervous, it was just who can handle the mental side the best.
"I thank everyone for their support, I wouldn't have done this without them."