Olympics gymnastics: Izbasa beats Maroney to vault gold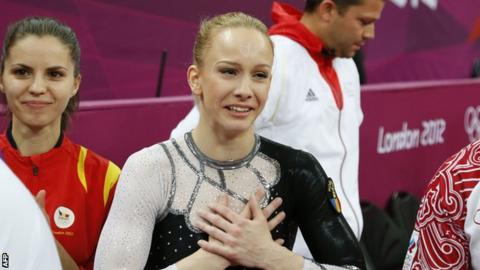 Romania's Sandra Izbasa won her second Olympic title with victory in the vault at the North Greenwich Arena on Sunday.
American world champion McKayla Maroney superbly executed her difficult Amanar vault to start but sat down her second vault to throw away hopes of gold.
Izbasa, 22, scored 15.191 as the last to compete, moving clear of pre-event favourite Maroney. The 16-year-old still picked up silver with 15.083.
Russia's Maria Paseka took the bronze medal, scoring 15.050.
The Amanar is considered the pinnacle of women's vaulting and has been near-perfected by the US team, in particular Maroney, brought to London 2012 as a vault specialist for the height and elegance of her routine.
Even with a major error on her second vault, there seemed a chance her score from the first would keep her ahead of the field.
But Izbasa, the floor champion at Beijing 2008, won a deserved gold through consistency under intense pressure as opposed to Maroney's dramatic flair.
Germany's Oksana Chusovitina, at 37 the oldest female gymnast competing at London 2012, finished fifth in what is expected to be her last Olympic appearance.
Chusovitina won her first Olympic medal at Barcelona 1992, competing for the so-called "unified team" formed in the demise of the Soviet Union, and was the vault silver medallist in Beijing some 16 years later for Germany.