Olympics fencing: Ruben Limardo earns Venezuela second ever gold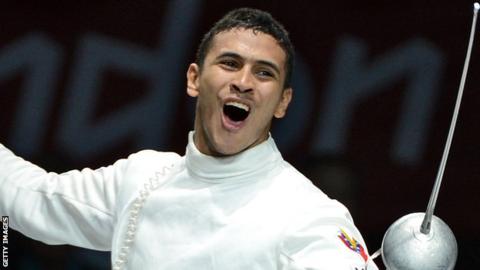 Ruben Limardo won the men's individual epee to earn Venezuela only their second Olympic gold medal ever.
The 26-year-old beat Norwegian Bartosz Piasecki 15-10 at the ExCel.
South Korea's Jung Jinsun took bronze by beating Seth Kelsey of the United States 12-11.
"I came here to get a gold medal and I dedicate it to my country. My goal was to reach my dream, to be an Olympic champion - that's what I set for myself when I was a child," said Limardo.
It was Venezula's first medal of the Games and their first Olympic fencing gold.
Limardo, who is a student, was competing at his first Olympic games and is Venezuela's first Olympic champion since 1968.
Venezuela have only won 12 medals in total - two gold, two silver and eight bronze.