London 2012 diving: Wu Minxia & He Zi win 3m synchro springboard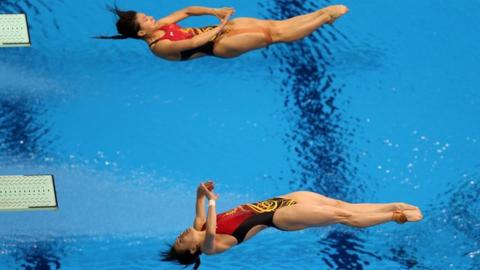 China continued their domination of Olympic diving as world champions Wu Minxia and He Zi easily won the women's synchronised 3m springboard event.
The nation won all eight events at last year's world championships and are expected to do the same in London.
Wu and He scored 346.20 to secure Wu her third successive Olympic title, with the United States taking silver and Canada edging Italy for bronze.
Britain's Rebecca Gallantree and Alicia Blagg, 15, finished seventh of eight.
As the host nation Great Britain were given a guaranteed place in all of the synchronised events.
But whilst the likes of Tom Daley and Peter Waterfield in the 10m platform event would have qualified anyway, 27-year-old Gallantree and Blagg - who finished 15th at last year's world championships - would otherwise have missed out.
As such they were always expected to struggle, but after the first two rounds they found themselves in fourth place.
But a couple of errors during their more demanding third and final efforts saw them slip down the leaderboard by the end of the five-dive event.
Even so, they were still encouraged by their performance.
"The compulsories [first two dives] were probably the best we've ever done so we were really happy with those," said Blagg.
"It's my first Games and it was an absolutely incredible experience and the home crowd was amazing."
Teenager Blagg added: "Hopefully I've got many more Games in me to improve on this, and the dives that I'm not confident on."
Gallantree, who competed in the Beijing Games, will return to action on Friday in the individual competition.
The Leeds-based diver says she will be passing on tips to some of her team-mates ahead of their debuts at these Games.
"It was really fantastic," she said.
"The result could have been slightly better but there were a lot of positives in there as well.
"We'll be reporting back to the others that the atmosphere is amazing and to go out there and, no matter what happens, enjoy it."