Olympics weightlifting: Lin Qingfeng wins 69kg gold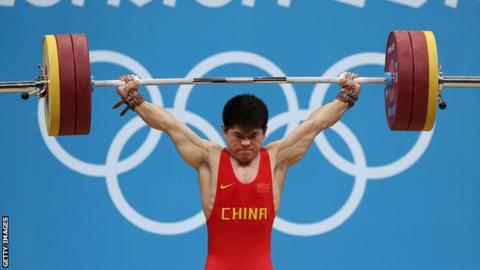 China's Lin Qingfeng won gold in the men's 69kg weightlifting category at London 2012 in his first senior appearance at world level.
The 23-year-old finished 11kg clear of the competition after his clean and jerk lift gave him a total of 344kg.
Indonesia's Triyatno Triyatno claimed the silver, and Romania's Razvan Constantin Martin took bronze.
Great Britain's Gareth Evans set three personal bests in the Group B session, but finished in 17th place overall.
Qingfeng proved a class apart in a Group A first stage at the ExCeL that saw four weightlifters bomb out with less than a quarter of the lifts successfully completed.
After noted snatch specialists such as Martin and Turkey's Mete Binay failed to force an advantage, the final result was never in doubt.
A lift of 187kg in the clean and jerk was enough to add Olympic honours to his previous Chinese national championships and junior world championships titles.
Qingfeng's success followed victories for fellow Chinese Mingjuan Wang in the women's 48kg and Li Xueying in the women's 58kg.