David Knight wins 10th British Enduro Championship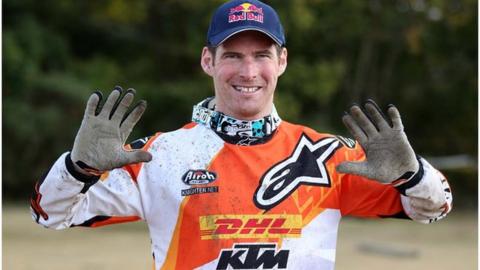 The Isle of Man's David Knight has won his 10th British Enduro Championship (BEC) title.
The KTM factory rider wrapped up the title with an imperious double victory in Hampshire to top the standings.
The 34-year-old said: "It's great to have claimed a 10th title. I really needed everything to go well here, which it did."
England's Tom Sagar finished second in the standings with the island's Danny McCanney third.
Knight has dominated the series since 1999, only missing out on three titles when competing in the Italian Championship in 2001 and in the US GNCC series in 2007 and 2008.
He claimed victory in 12 of the 13 tests on his return to racing after a painful stomach injury in Austria.
"I was confident that I would win here this weekend but I had no back-up plan if things didn't go to plan," said the four-time world champion.
Knight had missed the penultimate round of the BEC series when competing at the Enduro World Championships.
"After a good first day I just needed a few points from day two, which I got. Getting a 10th BEC title means a lot to me, and over the years I've really enjoyed competing in the championship."
The Isle of Man rider will complete his season at the eighth and final round of the Enduro World Championship, in France.