Nottingham Panthers: Nathan Robinson joins for Euro campaign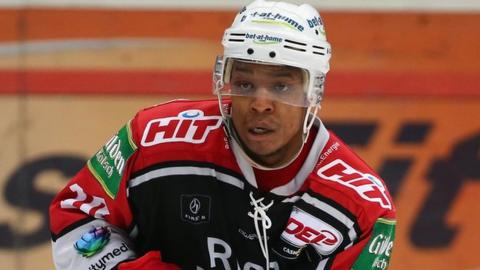 Nottingham Panthers have boosted their attacking options for the Champions League campaign by signing Canadian Nathan Robinson on a short-term deal.
The right wing or centre, 32, has played for Detroit Red Wings and Boston Bruins in the National Hockey League.
Most recently he has been with Cologne in Germany's top flight, a league where he has scored 252 points in 331 games.
"He's a proven offensive contributor at the AHL and top-flight European League level," said head coach Corey Neilson.
"That is something we identified as a need for us in the Champions League this year."
Robinson has also played in the American Hockey League, scoring 171 points in 261 games.
"He brings a wealth of experience and I really enjoyed our conversations about his role for our team and the contribution he felt he could have," Neilson added.
"He's a confident guy who's always played as a top six forward. He relishes the opportunity to be a 'go-to' guy for us to start next season."