Get Inspired: How to get into Wrestling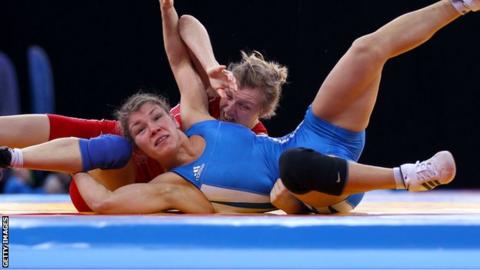 Wrestling is a sport which links the modern Olympics with those of ancient Greece.
Competitors contest a range of weight categories - the heaviest-ever Olympic wrestler was American Chris Mason, who took part in the 1972 super-heavyweight freestyle competition. He weighed in at more than 29 stones.
In the Greco-Roman discipline (in which only men currently compete at the Olympics), competitors are not allowed to attack their opponent's legs or use their own legs to trip, lift or execute other moves. In freestyle, the legs are allowed to come into play.
Countries in and around the former Soviet Union have traditionally dominated the sport - particularly the Greco-Roman form. They face greater competition from the United States in freestyle.
Why is it good for you?
Wrestling, in both forms, provides a full-body workout that raises the heart rate to help improve cardiovascular fitness, reflexes, balance and timing. This form of exercise improves stamina, lowers blood pressure and helps move oxygen throughout the body more effectively.
Greco-Roman wrestlers develop tremendous upper-body strength relative to their size as they are not allowed to use their legs to attack when competing. The shoulder and neck muscles are strengthened by both forms.
The efforts involved in wrestling will see approximately 450 calories burned during a 45-minute training session. This helps remove fat deposits from the body.
The throws and holds involved in wrestling provide an effective form of self-defence training. It also teaches people to maintain their cool and think clearly in moments of physical combat.
Many competitions are team-based, meaning wrestling is an excellent way to develop communication skills and learn to work effectively with other people as you train in groups. Clubs also offer a variety of social events beyond simply playing the sport.
What you get (and what you give others)
• Courage - To try. To fall short. To try again and again, and succeed. To face fear and doubt with resolve and the certain knowledge that failing to try is simply … failing. To endure pain for a greater aim.
• Ambition - To become who you are (meant to be). To exceed the ordinary and easy. Anybody can do easy.
• Discipline - To plan. To envision. To deny yourself the easy. To apply method, science and art to reach a goal - to create yourself.
• Dynamis - the ancient Greek word for the Will to Win. Life's battles don't always go to the stronger or the faster person. Sooner or later, the person who wins is the person who believes she can.
• Respect - For yourself. For others. For those that came before you and those that will come after. For the people who want you to far exceed the ordinary and easy.
British Olympic Wrestling
Get involved
There are currently more than 40 wrestling clubs in the United Kingdom and British Wrestling's club finder can help you find the nearest one to you.
Club secretaries and coaches will be able to tell you training times suitable to your age and ability, as well as what you will need to wear when you get there.
To ensure safety, it is recommended that knee pads, elbow pads and headgear are worn at all times. Beginners can just wear shorts and t-shirt for their first few sessions before buying specialised wrestling shoes and a singlet at a later date.
For those looking to progress, membership of British Wrestling provides insurance which allows you to train towards taking part in competition and progress through the International Federation of Associated Wrestling awards system.
For people outside of England, visit the Northern Ireland Wrestling Association and Scottish Wrestling Association websites to find out what schemes are available in your country. The Welsh Wrestling Association can be contacted on 01691 648728.
More on the British Wrestling website
History
The sport is currently fighting for its Olympic status. The International Olympic Committee has dropped wrestling from the programme for the 2020 Games, though the sport has since fought its way back on to a shortlist of three (alongside baseball-softball and squash) from which one 'winner' for 2020 will be chosen.
Wrestling's proponents note the thousands of years of history the sport boasts - cave drawings and wall paintings dating back to 3000 BC depict people wrestling.
Records of the sport were kept from 776 BC and they were a key component of the ancient Olympics.
When the first modern Olympics were held in 1896, wrestling was included as a way of giving spectators a flavour of what the games would have been like in ancient Greece.
Wrestling was first held at the ancient Olympics in 708 BC, and the 1900 Games were the only modern edition where wrestling was not present in any shape or form.
Greco-Roman was on show in 1986 to give a flavour of the ancient Games, while freestyle was introduced at the St Louis Games in 1904.
The 1912 Greco-Roman middleweight semi-final lasted an incredible 11 hours. The eventual winner, Klein of Russia, was so exhausted that he was unable to take part in the final.
Up until 1920, only one form of the sport was included, usually the Greco-Roman version. From 1924 onwards, both the freestyle and Greco-Roman formats have been commonplace.
At the 2000 Olympic Games in Sydney, the Greco-Roman wrestling programme was reduced from 10 to eight weight categories, while freestyle dropped from 10 to seven categories in 2004 to allow for the introduction of women's wrestling.
Are you inspired to try Wrestling? Or maybe you are a keen enthusiast already? Get in touch and tell us your experience of the activity by tweeting us on @bbcgetinspired or email us on getinspired@bbc.co.uk.
See our full list of activity guides for more inspiration.