Get Inspired: How to get into Handball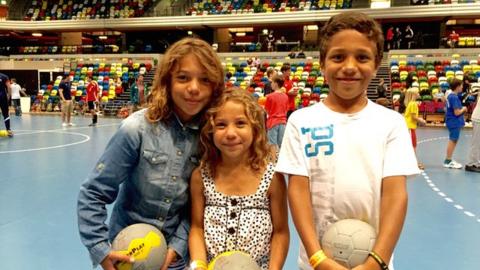 Handball flourished in the UK under the spotlight of London 2012, having been big for decades in most of mainland Europe and Scandinavia.
The sport is also popular in other pockets of the world, such as South Korea, where a movie called Forever The Moment - based on the South Korean women's team winning silver in Athens - was a box office smash.
Why is it good for you?
Handball players need to have strength and stamina, as well as excellent ball skills and the ability to play tactically as a team.
It is an intense sport that provides an excellent cardiovascular workout. An estimated 610 calories are burned per hour as players cover several miles in a game.
The exertion of throwing the ball at speed helps build the deltoid, quadriceps and abdominal muscles.
As handball is a team game, it is an excellent way to develop communication skills and learn to work effectively with other people.
Clubs also offer a variety of social events beyond simply playing the sport.
Get involved
Handball is a challenging sport that requires very little equipment and is easy to pick up. In the United Kingdom, there are around 75 clubs based largely in schools, colleges, universities and sports centres.
Both England Handball and Scottish Handball run a variety of training schemes for people who are interested in starting to play or coach the sport.
England Handball also have a club finder to help you find out where you can take part in your local area, or you can contact the Irish Olympic Handball Association for clubs in Northern Ireland.
For a casual game, all you need to begin is a handball, sports kit and a net. Contact your local club to find out how and where you can play regulated games in a handball league.
Although largely an indoor sport, it can be played on grass. Beach handball is also an increasingly popular way to have a go at the game.
For those wanting to play at an advanced level, British Handball's Talent Search programme puts on a number of try-out days with senior coaches to introduce newcomers to the sport and explore their potential.
More on the British Handball website
History
A tombstone carving from Athens dated back to 600BC shows a handball-like game being played. Records also exist of similar sports being played in medieval France and among the Inuit in Greenland in the Middle Ages.
The modern game of handball was first played towards the end of the 19th century in Scandinavia and Germany. The first written set of rules was published by Dane Holger Nielsen in 1906.
The International Amateur Handball Federation was formed in 1928, and the International Handball Federation was formed in 1946. It has been an Olympic sport since Berlin in 1936 when it was an 11-a-side outdoor game.
The sport reappeared as a seven-a-side indoor event for men at the 1972 Games in Munich, with a women's event introduced four years later in Montreal.
Are you inspired to try Handball? Or maybe you are a keen enthusiast already? Get in touch and tell us your experience of the activity by tweeting us on @bbcgetinspired or email us on getinspired@bbc.co.uk.
See our full list of activity guides for more inspiration.