Baldock Town give Alfie Barker 'second chance' after Harry Arter tweet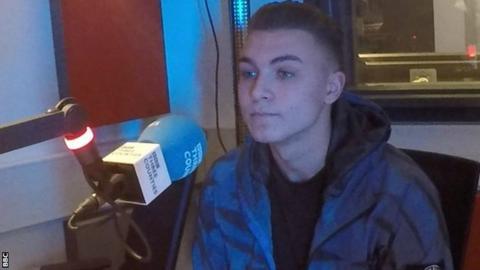 A non-league club says a teenage player who sent a tweet to Bournemouth's Harry Arter about the death of his baby daughter deserves a "second chance".
Alfie Barker served a seven-month ban after admitting an FA charge.
His ban expired on 1 August and he has been playing for Codicote FC, but has now moved on to Baldock Town.
"We hope that our decision to support Alfie will be welcomed by all our supporters, old and new," said a statement on Baldock's website.
Barker was with Hitchin Town when he posted a message to Arter on Twitter during Bournemouth's 3-3 draw with Arsenal on 3 January.
He was subsequently sacked by Hitchin and the carpentry firm where he worked, and charged by the Football Association with posting comments which were abusive and/or insulting and/or improper and/or brought the game into disrepute.
"Within our club, we welcome people from all backgrounds, cultures and embrace their disabilities or any mental health problems that they have," said the statement by Baldock, who play in South Midlands League Division One.
"We believe that people should be allowed a second chance and have always been willing to listen to people when they have had problems.
"After a lot of discussions within the club and after speaking with Alfie, it is our belief that he could benefit from being at our club.
"Although we do not in any way condone his previous actions, we do know that it has come to light he has mild learning disabilities and autism.
"In this respect, we think that, under the guidance of our club, we can help him become a better person, that he can learn to flourish and put the past behind him."
Following the incident, Barker said in an interview that his family had received death threats.
"I regret it massively," he added. "I'm saying sorry because I want to say sorry and I mean it, not because I've been caught out."