BBC Sport - World Cup 2014: 100 great World Cup moments - 13 days to go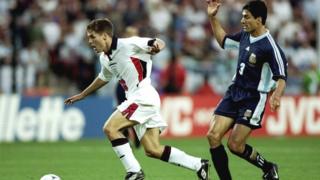 World Cup moments: Owen's wonder goal
BBC Sport counts down 100 of the greatest World Cup moments, as the 2014 tournament in Brazil draws nearer.
Today looks back to the 1998 World Cup second-round match between England and Argentina, when Michael Owen scored a wonderful individual goal.
Despite his moment of brilliance, England lost the match on penalties.
Available to UK users only.
Get Inspired Activity Finder

Run by the BBC and partners
Find ways to get active near you: