BBC Sport - World Cup: France v Germany - Battiston knocked out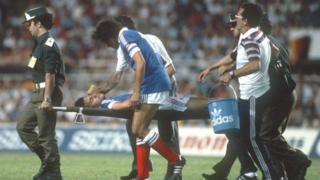 World Cup moments: Battiston knocked out
We look back to one of the most controversial incidents in World Cup history, when West German goalkeeper Harald Schumacher fouled France's Patrick Battiston during the 1982 semi-final in Seville.
The defender was knocked unconscious and had to be given oxygen on the pitch, but referee Charles Corver only awarded a goal kick to the Germans rather than a penalty to France.
Schumacher did not receive a booking from the referee and went on to play a decisive role in the penalty shootout as West Germany reached the final.
Watch France v Germany live on BBC television and the BBC Sport website from 16:30 BST on Friday, 4 July.
Available to UK users only.
Get Inspired Activity Finder

Run by the BBC and partners
Find ways to get active near you: