BBC Sport - World Cup 2014: 100 great World Cup moments - 69 days to go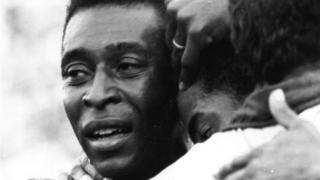 World Cup moments: Pele's dummy
BBC Sport counts down 100 of the greatest World Cup moments, as the 2014 tournament in Brazil draws nearer.
Today looks back to a memorable moment from Pele during the 1970 World Cup semi-final, when he sells Uruguay goalkeeper Ladislao Mazurkiewicz a clever dummy that almost results in a goal for Brazil.
Available to UK users only.
Get Inspired Activity Finder

Run by the BBC and partners
Find ways to get active near you: