BBC Sport - World Cup 2014: 100 great World Cup moments - 96 days to go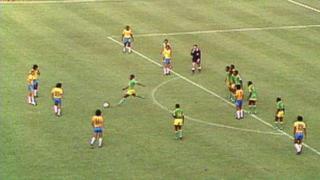 World Cup moments: Zaire free-kick farce
BBC Sport counts down 100 of the greatest World Cup moments, as the 2014 tournament in Brazil draws nearer.
Today we revisit the 1974 group match between Brazil and Zaire, when a free-kick for the world champions was disrupted after Zaire's Mwepu Ilunga ran out of his team's wall to kick the ball away.
Available to UK users only.
Get Inspired Activity Finder

Run by the BBC and partners
Find ways to get active near you: