Match-fixing, names changes, standing - Shaun Harvey's inbox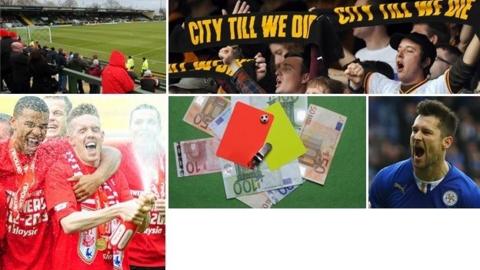 Match-fixing, name changes, a return of standing, emergency loans and transfer embargoes are just some of the issues facing one of football's busiest men.
Three months after becoming the Football League's new chief executive, Shaun Harvey's inbox is bulging.
"Any honeymoon period that existed is officially over and the majority of challenges that could have found their way to our door appear to have done so," he said.
At no point during his career in football has Harvey had any first-hand experience of dealing with match-fixing, but it is a subject that has been high on his agenda since six were arrested in early December.
One of them - Sam Sodje - was secretly filmed by the Sun on Sunday describing how he punched an opponent in a League One game to get a red card in exchange for £70,000.
"I do not know how widespread [fixing] is - there is certainly no evidence of any more incidents," said Harvey.
Harvey attended a recent meeting chaired by Culture Secretary Maria Miller to discuss the subject and is adamant there needs to be a clear and common strategy for dealing with match-fixing.
"The League is in discussion with other football authorities as to the best and most appropriate approach. We're going through a learning curve to establish best practice that we can put in place quickly," he added.
Currently, the Football Association, Football League and Premier League monitor betting patterns on 5,000 matches each season. Apprentice players have a module in their education programmes about the dangers of betting and match-fixing.
Harvey is keen to review these to make sure they are as good as possible.
The horse racing industry - far more advanced in this field - has been consulted, but discussion with the 72 clubs will not happen until they are all together at a scheduled meeting in February.
The bottom line for Harvey is this: "We have to be able to look in the mirror knowing we have done everything we can."
Harvey came into his current role after nine seasons as chief executive at Leeds. Before that, he had a decade at Bradford and started his career in football in 1992 as secretary at Scarborough.
Within the game he has a reputation as a hugely knowledgeable administrator who knows the business inside out, but his experiences have been far from smooth.
He spent many years working for Geoffrey Richmond at Scarborough and Bradford and Ken Bates at Leeds - two of football's more controversial and divisive figures.
To an extent his reputation remains intertwined with theirs.
His CV includes three administrations in the era that followed the collapse of ITV Digitial - two at Bradford, one at Leeds.
"Being in administration is not something to be proud of but it is something to learn from," added the 43-year-old. "When clubs do get into trouble and are genuinely looking for answers I can help from a very practical perspective."
It is perhaps not surprising that one of his priorities is to make sure clubs are financially stable. Central to this is Financial Fair Play, a subject that sounds dull and is certainly complicated but one that is incredibly important.
The aim of FFP is to stop clubs from spending wildly beyond their means and thus prevent a repeat of the financial disasters that have befallen the likes of Portsmouth in recent years.
By this time next year the Football League will have analysed the financial reports of its 72 clubs from this season.
Those documents have to be submitted by 1 December and Championship clubs losing more than £8m after various exclusions will be put under a transfer embargo starting in January 2015 if they remain in the second tier, or face a fine - the Fair Play Tax - if they have won promotion to the Premier League.
Recent stories have claimed QPR and Blackburn in particular could face huge fines pushing £60m if they are promoted.
Harvey will not be drawn on how many Championship clubs are likely to face punishment but does admit that "our projections have highlighted a number of clubs that could fall into that category".
However, since the introduction of FFP - clubs have been submitting their financial reports without penalty for the previous two seasons - the football landscape has changed.
The parachute payment deal agreed earlier in 2013 guarantees £60m for clubs relegated from the top flight over a four-year period - an increase on the previous figure of £48m.
Arguably, it means there is less of a level playing field in the Championship than when FFP was introduced, and so clubs without parachute payments may need to spend more to compete with those that do have them.
But that in itself brings problems because that would surely work against the very ideal of establishing a framework to control spending?
"Has it changed it enough to alter the rules? That is a decision that the clubs will have to make," argues Harvey.
"If this issue was easy someone would have solved it a long time before I arrived."
Equally complicated is the subject of team names, an issue brought into sharp focus by chairman Assem Allam's attempt to change Hull City to Hull Tigers.
That decision ultimately lies with the Football Association council and they have sought the opinion of the Football League among various other official bodies.
Harvey is, unsurprisingly, keen to make sure any decision works in the best interests of the 72 clubs he represents.
For example, what if someone offered to take over at a cash-strapped lower division club, injecting a sizeable amount of money, but only if he could alter their name?
"There are many different circumstances that Hull's application could lead to in the future and we need to consider all of them from the perspective of our clubs," said Harvey.
The chief executive can already claim a small victory with the extension of the emergency loan window until the end of the 2014-15 season.
This should not be under-estimated because without it small clubs would need large squads to give them the depth to handle injuries and suspensions when the transfer window is closed. Either that, or they would be forced to turn to youth players to such an extent that it could damage the competition.
Harvey is confident the subject is now fully on Fifa's agenda and that some kind of system will be put in place on a permanent basis.
There will be further discussion about it in 2014 - as indeed there will be on the possible return of standing on a permanent basis in the Championship.
Currently it is permitted in League One and League Two, but clubs in the Championship must be all-seater after three seasons in the second tier.
However, on Friday the Football League sent a consultation document to its clubs to gauge their enthusiasm for a return to safe standing in all three divisions. The findings will be discussed at a meeting in February.
Harvey, who currently splits his time between offices in Preston and London, talks with real enthusiasm about his desire to make the Football League a better place for its member clubs and their fans.
The honeymoon might be over, but for richer and poorer the new chief executive is hoping his union with the Football League is a long and fruitful one.