Get Involved: DIVING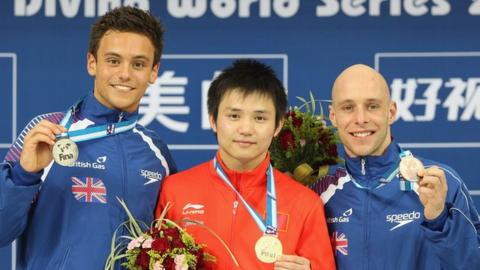 Olympic diving disciplines have evolved from something you might regularly see a child attempt at the local swimming pool into the modern-day balletic blur of twists and turns.
The eight gold medals now on offer are evenly split between men and women, with the events consisting of individual and synchronised competitions in both the 3m springboard and 10m platform.
Great Britain's best hope of a medal rests with teenager Tom Daley and his dive partner Pete Waterfield in the synchronised 10m platform.
But China remain the nation to beat, having won all eight Olympic disciplines at the last World Championships.
Why is it good for you?
Platform diving requires a quick burst of energy to spring off the board and engages the lower body, upper back, shoulders, abdominals and arm muscles. An hour's activity typically burns approximately 197 calories.
Athletes hit the water at speeds of up to 40mph, with supreme acrobatic and coordination skills required to perform the complex dives.
Total dedication and hours of practice are needed to master diving.
As diving can be done in pairs, it is an excellent way to develop communication skills and learn to work effectively with other people. Clubs also offer a variety of social events beyond just taking part in the sport.
Get involved
Under supervision at a club or training centre, diving is one of the safest ways to get an adrenaline buzz. From beginners to experts, children to adults, courses are run at swimming pools throughout the United Kingdom for those looking to take part.
For beginners, it is essential to receive tuition from qualified coaches to ensure that you learn the complex techniques necessary to perform in a safe way. Other than that, all that is needed are some swimming trunks or a swimming costume designed for use in sports.
For children between the ages of five and 11, the Amateur Swimming Association's 'Flip and Fun' scheme provides the perfect foundation for those looking to kickstart their diving experience. The British Swimming website also provides a comprehensive list of diving competitions.
Scottish Swimming run training events throughout the year for people of all abilities and Swim Wales' scheme uses aspects of trampolining, ballet, yoga and gymnastic. Information about how you can get involved in Northern Ireland can be found on the Swim Ulster website.
You can also practise the skills required to excel at diving on dry land using crash mats and trampolines provided at your local leisure centres.
To keep up-to-date with diving at London 2012, use British Swimming's companion site.
More on the British Swimming website
Want to get involved with sport in your local community? Why not Join In ?
'Join In Local Sport' aims to get as many people as possible to turn up and take part in activities at their local sports facilities on 18/19 August, 2012 - the first weekend between the Olympic and Paralympic Games.
The aim of the initiative is for every sports club and community group in the UK to put on a special event in a bid to encourage more people to get involved as members, supporters or volunteers.
More than 4,000 local sports clubs will be opening their doors to host events and show people just how they can get involved.
As well as tips on playing sport there will be information on coaching, supporting and how to help out.
Find an event near you.
The competition format at London 2012
From Sunday 29 July to Saturday 11 August, 136 athletes (68 men, 68 women) will compete at the Aquatics Centre in the Olympic Park.
Eight gold medals are on offer, evenly split between men and women.
Any tied competitors at the end of the final will share the ranking and/or medals.
Each country is limited to two athletes per individual event and one team (of two individuals) per synchronised event.
Events consist of individual and synchronised competitions in both the 3m springboard and 10m platform.
The individual event programmes include preliminaries, semi-finals and finals, while the synchronised events include only finals.
In the men's events each round contains six dives, while in the women's events each round contains five dives.
More on the London 2012 website
The rules at London 2012
Divers use either a springboard, 3m above the pool, or a fixed platform, 10m above the pool. The athletes submit in advance the list of dives which they intend to perform.
Judges award a score out of 10 for each dive, which is multiplied by the dive's degree of difficulty.
Scores are not carried over from one phase to the next and the diver with the highest combined score wins.
Divers may score zero on a dive for double-bouncing on the end of the board, performing a dive other than the one they declared or if they go beyond the allotted time they have to dive.
In the synchronised events, pairs of athletes dive in tandem. Separate groups of judges give scores for synchronisation and execution.
More on the London 2012 website
Ones to watch
Three medals are realistic for Team GB, with Tom Daley having won gold or silver in the 10m platform at each of his last five international events.
Daley and Pete Waterfield are contenders in the men's synchronised 10m platform, as are European champions Tonia Couch and Sarah Barrow in the women's equivalent.
The Chinese have won 24 of the last 32 diving gold medals spanning five Olympics.
They also clinched every world title last year; the imperious Qiu Bo and Chen Ruolin became men's and women's individual and synchronised 10m platform champions, and Wu Minxia did the women's springboard double.
History
In the early modern Olympics, the events were more sedate. Plain high diving entailed a simple straight dive off the platform, while in the bizarre discipline of plunge for distance, athletes competed to see who could glide the furthest underwater after diving from a standing position.
Unsurprisingly, the latter discipline did not last the distance - making its only appearance in 1904. That was the year that diving made its Olympic debut.
A women's event was added eight years later, making diving one of the first Olympic sports to incorporate events for both sexes.
Competitive diving developed from gymnastics in Sweden and Germany in the 18th and 19th centuries, and it was included in the Olympic Games for the first time at the 1904 Games in St Louis.
Both springboard and platform events have been included since the 1908 Olympic Games in London, with women having taken part since 1912. The 10m and 3m springboard events have been in place since 1928, while the Sydney Games in 2000 witnessed the entrance of synchronised diving.
The United States have won 131 medals in diving at the Olympics. This is more than the rest of the other top eight medal-winning nations combined.