Ashes 2013-14: England dominate Australia in Melbourne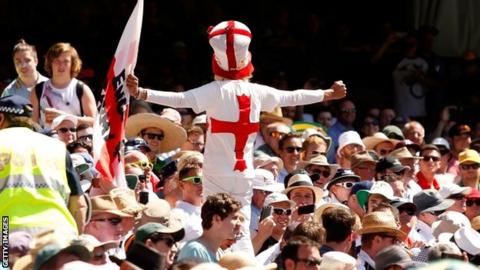 Ah, so that's what it used to feel like.
After five weeks of toil and torment, England - and you may wish to adjust your set - finally, unequivocally, finished a day of this Ashes series in the dominant position.
Australia are nine men down. England are still 91 runs ahead. Not for many long winter nights have supporters back in the UK been able to emerge from their duvets with such a spring in their pyjamas.
What made it all the more surprising was that it came as such a sharp deviation from the usual script. In front of another monstrous crowd, England had lost their last four wickets for just 29 runs in under an hour.
Slog followed fearful fend followed hapless defence. Five-nil was not just a taunt but a logical prediction. Roll on the runs, roared the MCG. Bring out the clowns.
Except, for the first time all series, the joke was on Australia. All six of their top order got out to unnecessary shots. England, at last, found both penetration and parsimony.
This had been England's plan from the start, just as it was three years ago: starve aggressive batsman of airy shots, draw the error, seize the chances.
It failed so dramatically in the first three Tests this winter because Australia would not let it happen. In 2010-11 James Anderson took 24 wickets at an average of 26.04, Graeme Swann 15 at 39. In the three calamitous losses here this time, Anderson was clouted for 409, his meagre seven wickets costing 58 apiece; Swann was savaged so badly (560 runs conceded, each wicket at 80) that it ended his Test career.
Here, on a pitch where the ball just held up enough to draw catches in front of the wicket and punish those attacking on the up, all five at the forefront got it right.
Anderson had his best day all tour, taking 3-50 off 16. Stuart Broad's three wickets cost just 30 runs in his 16 overs.
Crucially, when those two strike bowlers went off, the back-up boys continued the blockade. Tim Bresnan's two wickets and 18 overs went for a mere 24 runs; Ben Stokes's 14 overs cost less than three apiece, and Monty Panesar's nine went for only 18.
Against batsmen breezily belligerent after the Ashes were won with such ease, it brought rewards. While David Warner and Shane Watson edged mighty swipes and Michael Clarke shouldered arms to Anderson, Steve Smith slashed wildly outside off stump to be caught at slip and George Bailey - poor, bemused George Bailey - nicked behind to the 19th runless delivery he faced.
If England's beleaguered support could smile as they have only with gallows humour on this disastrous tour so far, there will also be those for whom Friday's lonely success triggers a lament for what could have been.
Australia entirely deserve their ascendancy in these Ashes. They have scored seven centuries in the series and enjoyed six partnerships of 100 or more; England have just one of both. But there remains sufficient weakness in the top order for England to wonder what might have been.
To have Australia 122-6 in their first innings here was hardly out of character. At the Gabba they had Clarke's men in trouble at 132-6, in Adelaide on 174-4 and at the Waca on 143-5.
What they have been unable to do, to the eternal regret of even the barmiest in the travelling army, is match the ruthlessness of the opposition. The Aussie tail has not just wagged but thrashed; England's has been tucked between its legs while the front end howls.
In the first innings at Brisbane, the last five Australian wickets added 195 runs. In Adelaide they added 313, in Perth 242.
That England lost their last seven wickets here in Melbourne for just 82 was entirely in keeping with their contrasting lower-order ordeals. And the reason they did was the reason why it has been happening all series.
Mitchell Johnson's three wickets at the very start of this second day meant his spell with the second new ball yielded five for 14 in 42 balls.
It was his 10th five-wicket haul in Test cricket, five of which have come against England, three of them in this series alone.
More importantly, it underlined how destructive his dynamite bursts have been. If you combine his four key spells (three wickets for two runs and then three for five in Brisbane; six for 16 in Adelaide; 5-14 at the MCG) it means his 18 most important scalps have come at a remarkable two runs apiece.
It is why England celebrated the seventh and eighth wickets, and then at the death the ninth, with as much vigour as the big boys at the top.
For the first time they have not just opened the door but shouldered through it. If something is to be salvaged from the wreckage of this series, now is the time. This is the match.
What they must now do is start again with a lead of at least 70 and at least make parity with their first-innings score, despite the rampaging Johnson and the relentless Ryan Harris.
That would leave Australia to chase more than 300, on a pitch that punishes poor shots as much as it rewards application. They have the batsmen to do it; England have shown the discipline to deny them.
In many ways it is too little too late. One good day does not guarantee another, not against an attack that has bowled them out this series for 136, 172 and 179, not against a batting line-up containing the four top performers by series average.
But this is what it has come to: saving face, dodging the whitewash. When it has been all darkness and gloom, silver linings are all that are left.