Ashes 2013-14: England's Alastair Cook needs help from team-mates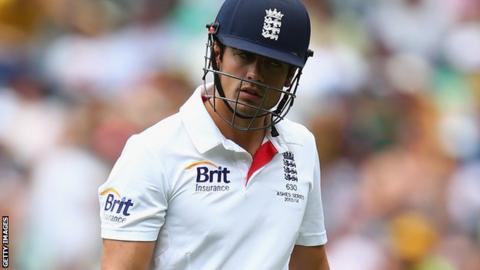 This has been a bleak midwinter for Alastair Cook, and with every passing day his burden grows a little heavier.
An England captain is never under greater pressure than on an Ashes campaign down under.
On an Ashes campaign down under when his side is being pummelled from one coast to the other and everywhere in between, it is the loneliest place of all, a world of relentless snipe and attack, of stabs in the back and slaps in the face.
Three years ago this was Cook's continent. He scored 766 runs, averaged 127, provided the foundations and ground floor for England's historic series win.
Not this time. Not with the roof collapsing and the walls caving in.
At 226-6 at the end of the first day of this fourth Test, Kevin Pietersen not out on 67, this was not England's most calamitous day. But they remain undeniably second best and Cook remains a leader in search of a team.
There were sometimes brief moments in his fleeting Boxing Day innings here at the MCG when he looked again like the care-free kid - a slashing, wrist-rolling cut off the back foot, a clump through midwicket for four more.
In his demise for 27 lay a more revealing tale: a leave-alone ball from Peter Siddle outside off stump, a tired, distracted shouldn't-play shot to produce nothing but catching practice for his opposite number Michael Clarke at second slip.
Only a sporting Scrooge could fail to feel a little sympathy. The previous day might have been both Christmas and Cook's birthday, yet his stand-out gifts were all of the unwanted kind - three senior players gone from the side, three successive Test hammerings, the Ashes lost after three series of English dominance.
It is one thing being the captain of a sinking ship. It is another to have several of your senior officers already away in the lifeboats, leaving you bobbing up and down on an inflatable raft with only cabin boys for company and circling sharks all around.
So great is the contrast between Cook's form in the last Ashes in Australia and this that in seven innings this winter he is still 54 runs short of the total he made (235) in a single innings at Brisbane last time out.
That is quite enough for a player to obsess and depress about. To have to deal with everything else on top, in a country that is talking of little else and loves nothing more than an English team wrecked on the rocks, is to carry the kind of weight that can leave a man stooped and scarred.
Cook admitted here the other day that perhaps the team's successes during the past year had papered over a few cracks in his captaincy. It was a commendably honest comment from a man who has been upfront about the failings of both his side and his batting over the past chastening five weeks.
At the crease he has altered little technically since that tour de force in 2010-11. What has changed is the quality of the bowling he is coming up against.
Where once he was given plenty of short stuff to cut and pull, his two favourite shots, and sufficient loose stuff on his pads to work away through the leg side, this time he has faced an attack as proficient in the art of slow strangulation as it is at wicket-taking bursts.
In Ryan Harris's first six overs, runs came off only one of them. When Harris and Mitchell Johnson wearied, Shane Watson and Peter Siddle kept the tourniquet similarly tight.
Neither did it loosen with Cook back in the pavilion. Only 64 runs were scored in the afternoon session, with just 12 runs coming in one period off 12 overs.
It underlined the point that, as captain, Clarke has had at his disposal a superior workforce in superior form.
Cook has lost the bowler who has taken more wickets than anyone else in Test cricket over the past five years (Graeme Swann), watched his main strike bowler be hit for a world record-equalling 28 off one over (James Anderson), had England's best number three in 25 years go home on medical grounds (Jonathan Trott) and seen the form of his team's player of the year (Matt Prior) fall apart so dramatically that after 60 consecutive Tests he has been dropped for someone who has never kept wicket in a Test match and remains entirely unconvincing with the bat.
Clarke, meanwhile, has Harris fit enough to play four consecutive Tests for the first time in his life, a Johnson so revitalised he had taken 23 wickets at an average of 15 in just three matches and the four leading batsmen by series average.
No matter how clever your bowling changes or funky your field settings, such overwhelming weight of numbers can only leave a leader in retreat.
At least the troops fought on this first day. All four of the top order got starts. After the thrashings in Brisbane, Adelaide and Perth there was a very conscious change of approach: give nothing away cheaply, eliminate all obvious risk.
It is understandable after the wanton wastes earlier in this one-sided series and will please many supporters frustrated by the self-inflicted wounds of the last sorry month.
But neither is it free of flaws. So slowly did England score that all momentum was ceded to Australia in front of their world record Test crowd of 91,092. With the new ball just 10 overs old, another inadequate total is only a few fast and nasty Johnson deliveries away.
Cook needs his best batsman, Pietersen, to play to his reputation and record rather than his ego. He then needs his struggling bowlers to replicate the reverse-swinging menace they found in overwhelming victory three years ago.
He needs all hands on deck - and he needs them now. Otherwise the sense of helplessness will grow, as will the cruel clamour and the weight on those weary shoulders.