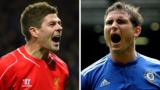 Gerrard v Lampard: Who was better?
Read full article on Steven Gerrard or Frank Lampard? A question that still divides
The Premier League and English football will witness the end of an era with the close of this season as Steven Gerrard and Frank Lampard - two of the outstanding and enduring figures of this generation - leave to join Major League Soccer with LA Galaxy and New York City FC.
For clubs and country, both were permanent fixtures in the nation's sporting psyche, Gerrard with Liverpool and Lampard with Chelsea - the latter's career bookended by his time at West Ham United and Manchester City.