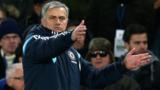 Will silence be golden for Mourinho?
Read full article on Jose Mourinho: Will silence be golden for Chelsea manager?
The Premier League's game of the season was watched by an estimated global audience of 650 million and covered by a record 26 television crews - but Chelsea and Manchester City could not serve up a spectacle to match the expectation.
The 1-1 draw keeps Chelsea five points clear of City and in prime position at the top of the table, yet conflicting emotions swirled around Stamford Bridge at the conclusion of a disappointing game.