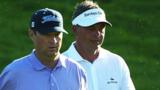 Clarke v Love: How do they match up?
Read full article on Can Darren Clarke get the better of Davis Love III at 2016 Ryder Cup?
Darren Clarke and Davis Love III closed out a dramatic half point and then shared cigars, puffing away in a spirit of great friendship.
This was back in 2004, when the singles draw at Oakland Hills had thrown them together in opposition for a final day that capped a record-breaking Ryder Cup win for Europe.