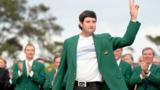 Will wiser Watson win Masters again?
Read full article on Masters 2015: Bubba Watson feels ready for a third Augusta challenge
Bubba Watson started winning majors at an age when many of golf's greatest names had already finished collecting their biggest titles.
Perhaps the man who defends his second Masters title next week offers some hope to Tiger Woods while he contemplates his new ranking outside the world's top 100.