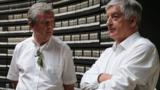 Is a World Cup boycott possible?
Read full article on Fifa corruption report: Is a World Cup boycott really possible?
In calling for the organisation he used to lead to unite with Uefa and lead a boycott of the World Cup - as well as a breakaway from Fifa - former Football Association chairman David Bernstein has dared say what many have no doubt been thinking.
After all, if the FA is so outraged with the world governing body's handling of the investigation into the bidding for the next two World Cups, why not take drastic action and salvage some dignity by voting with one's feet?