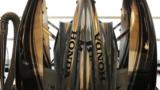 Has Honda's F1 return soured already?
Read full article on Honda's F1 return seemingly soured with engine controversy
Honda are still two months away from the first race of their high-profile new partnership with McLaren but already the Japanese company is at the heart of a controversy in Formula 1.
A U-turn on an interpretation of a complex engine rule has led to the Japanese company questioning whether it is being treated fairly on its return to F1 after a six-year absence.