David Denton says Scotland's World Cup match against Samoa will be the biggest in most of the players' careers.
SFA action over Houston interview
Falkirk boss Peter Houston gets a notice of complaint from the Scottish FA for comments made on his club's TV channel.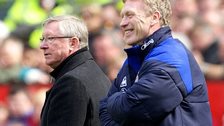 No mistake hiring Moyes - Ferguson
Sir Alex Ferguson tells a BBC documentary Man Utd's decision to hire David Moyes as his successor was not a mistake.
BBC Scotland coverage
Scottish sport news and interviews, Wed 7 Oct, 18:30 BST, BBC Radio Scotland
Poland star Robert Lewandowski expects "very aggressive" approach from Scotland...
Read the latest BBC news from Scotland
Scores, Results & Fixtures
Latest Football
Previous Results
Tue 8 Sep 2015

-

European Championship Qualifying
Belarus

2 - 0

Luxembourg

FT

Macedonia

0 - 1

Spain

FT

Slovakia

0 - 0

Ukraine

FT

Slovenia

1 - 0

Estonia

FT

Liechtenstein

0 - 7

Russia

FT

Moldova

0 - 2

Montenegro

FT

Sweden

1 - 4

Austria

FT
Previous Results
Mon 7 Sep 2015

-

European Championship Qualifying
Upcoming Fixtures
Thu 8 Oct 2015 - European Championship Qualifying
Georgia v Gibraltar 17:00
Scotland v Poland 19:45
Hungary v Faroe Islands 19:45
Northern Ireland v Greece 19:45
Romania v Finland 19:45
Albania v Serbia 19:45
Portugal v Denmark 19:45
Upcoming Fixtures
Fri 9 Oct 2015 - European Championship Qualifying
Macedonia v Ukraine 19:45
Slovakia v Belarus 19:45
Spain v Luxembourg 19:45
England v Estonia 19:45
European Championship Qualifying