Defender Jonny Evans is doubtful for Northern Ireland's final two Euro 2016 qualifiers after injuring a hamstring.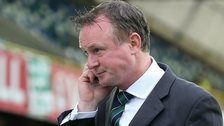 O'Neill wants four-year NI contract
Michael O'Neill says he wants a new four-year contract rather than the two years the IFA looks set to offer him.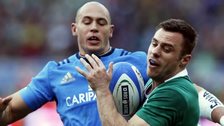 Irish aim to qualify by beating Italy
Ireland will be expected to book their World Cup quarter-final place by beating Italy at the Olympic Stadium on Sunday.
Around the Web
Subscribe
Sport Northern Ireland
Irish League Show
Joel Taggart and Chris Morgan discuss the big weekend talk points including Paul Heatley's four-goal blast for Crusaders.
Scores, Results & Fixtures
Latest Football
Previous Results
Sat 3 Oct 2015

-

Irish Premiership
Ballymena United

2 - 4

Crusaders FC

FT

Carrick Rangers

0 - 1

Portadown

FT

Cliftonville

3 - 3

Linfield

FT

Coleraine

2 - 0

Warrenpoint Town

FT

Glenavon

3 - 1

Dungannon Swifts

FT

Glentoran

0 - 2

Ballinamallard United

FT
Previous Results
Sat 26 Sep 2015

-

Irish Premiership
Ballinamallard United

0 - 2

Cliftonville

FT

Crusaders FC

5 - 0

Carrick Rangers

FT

Dungannon Swifts

2 - 4

Glentoran

FT

Linfield

4 - 3

Glenavon

FT

Portadown

1 - 2

Coleraine

FT

Warrenpoint Town

1 - 2

Ballymena United

FT
Upcoming Fixtures
Wed 7 Oct 2015 - Irish Premiership
Ballinamallard United v Glenavon 20:00
Upcoming Fixtures
Sat 10 Oct 2015 - Irish Premiership
Carrick Rangers v Coleraine 15:00
Crusaders FC v Warrenpoint Town 15:00
Dungannon Swifts v Cliftonville 15:00
Linfield v Glentoran 15:00
Portadown v Ballymena United 15:00
Upcoming Fixtures
Sat 17 Oct 2015 - Irish Premiership
Ballinamallard United v Crusaders FC 15:00
Cliftonville v Portadown 15:00
Coleraine v Dungannon Swifts 15:00
Glenavon v Ballymena United 15:00
Glentoran v Carrick Rangers 15:00
Warrenpoint Town v Linfield 15:00