Nottingham Forest's Jamie Ward is likely to miss Northern Ireland's Euro 2016 qualifier against the Faroe Islands with a hamstring problem.
Schmidt positive about Earls fitness
Ireland coach Joe Schmidt says that the initial news of Keith Earls is positive after he was carried off against Wales.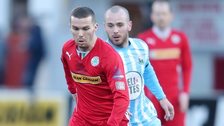 Warrenpoint Town v Cliftonville - latest
Score updates from the Irish Premiership game between Warrenpoint Town and Cliftonville.
Around the Web
Subscribe
Sport Northern Ireland
Irish League Show
Joel Taggart and Chris Morgan discuss the big talking points in the Irish Premiership as Linfield and Cliftonville maintain their unbeaten starts.
Scores, Results & Fixtures
Latest Football
Previous Results
Sat 29 Aug 2015

-

Irish Premiership
Crusaders FC

4 - 0

Dungannon Swifts

FT

Linfield

3 - 0

Portadown

FT
Previous Results
Fri 28 Aug 2015

-

Irish Premiership
Ballymena United

1 - 1

Carrick Rangers

FT

Glenavon

0 - 0

Glentoran

FT

Coleraine

2 - 1

Ballinamallard United

FT
Previous Results
Sat 22 Aug 2015

-

Irish Premiership
Ballinamallard United

1 - 2

Portadown

FT

Cliftonville

1 - 0

Carrick Rangers

FT

Coleraine

1 - 3

Linfield

FT

Dungannon Swifts

2 - 0

Ballymena United

FT

Glenavon

1 - 2

Crusaders FC

FT

Glentoran

2 - 1

Warrenpoint Town

FT
Previous Results
Sat 15 Aug 2015

-

Irish Premiership
Ballymena United

0 - 2

Coleraine

FT
Warrenpoint Town v Cliftonville 15:00
Upcoming Fixtures
Sat 5 Sep 2015 - Irish Premiership
Ballinamallard United v Linfield 15:00
Carrick Rangers v Warrenpoint Town 15:00
Cliftonville v Crusaders FC 15:00
Dungannon Swifts v Coleraine 15:00
Glentoran v Ballymena United 15:00
Portadown v Glenavon 15:00
Upcoming Fixtures
Sat 12 Sep 2015 - Irish Premiership
Ballinamallard United v Carrick Rangers 15:00
Ballymena United v Cliftonville 15:00
Crusaders FC v Linfield 15:00
Glenavon v Coleraine 15:00
Glentoran v Portadown 15:00
Warrenpoint Town v Dungannon Swifts 15:00