Belgium's Thomas Pieters closes with a three-under 69 to win the Czech Masters by three shots from Sweden's Pelle Edberg.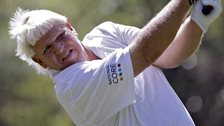 Daly in hospital after on-course collapse
Two-time major winner John Daly is taken to hospital after collapsing during a minor tournament in the USA on Saturday.
Day and Bae tied for Barclays lead
US PGA winner Jason Day shares the lead with Sangmoon Bae going into the final round of the Barclays in New Jersey.