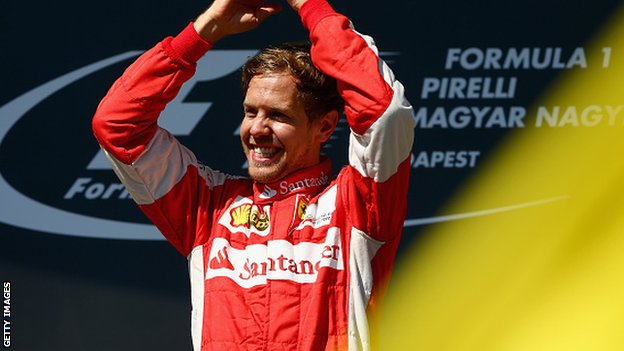 Formula 1 gossip: Vettel, Lynn, Massa, Horner
Saturday, 1 August
Two-time Formula 1 world champion Mika Hakkinen believes Sebastian Vettel remains a serious threat to Mercedes drivers Lewis Hamilton and Nico Rosberg in the 2015 championship after his victory in Hungary last weekend. (NBC Sports)
British driver Alex Lynn, 21, hopes his maiden feature race win in GP2 will land him a Formula 1 seat in 2016. (BT Sport)
Felipe Massa is confident Williams' double non-score in the Hungarian Grand Prix will not be repeated. (Crash.net)
Organisers say the Baku circuit layout is ready to be signed off before next year's first F1 race in Azerbaijan. The venue will be capable of hosting 19,000 seated spectators, but organisers are also considering a general admission area to increase capacity. (Motorsport.com)
Red Bull team principal Christian Horner has earmarked the Singapore Grand Prix in September as the next race where his outfit could cause an upset after their success in Hungary. (Planet F1.com)
Friday, 31 July
McLaren driver Jenson Button has some advice for aspiring F1 drivers: "Buy a football or a tennis racket. It's a lot cheaper and you stick with the same rules!" (Formula1)
Red Bull boss Christian Horner says that driver Daniel Ricciardo has a "watertight" contract amid speculation that the Australian could be a replacement for Kimi Raikkonen at Ferrari. (ESPN F1)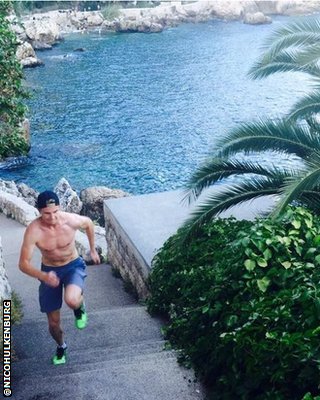 Organisers of the German Grand Prix at Hockenheim will offer a three-day ticket to the 2016 race for less than 100 euros (£70) in a bid to win back fans. (Reuters)
Formula 1 teams have lobbied Bernie Ecclestone to restore the summer break to three weekends after a provisional calendar for 2016 cut the mid-season shutdown to two weeks. (Adam Cooper F1)
Force India driver Nico Hulkenburg is not resting on his laurels during the summer break. The German posted pictures on Twitter of himself running up steps Rocky-style , albeit in a more tropical-looking location than Philadelphia.
Lewis Hamilton's holiday fun continues. The world champion has posted an Instagram picture of him and his pals leaping into a lake.
Thursday, 30 July
McLaren driver Jenson Button is said to be in talks with new Top Gear presenter Chris Evans over joining the BBC programme, which re-launches in 2016. (Daily Mail)
Fernando Alonso celebrated his 34th birthday on Wednesday and Button was one of those wishing the Spaniard well. "Hope you're having a good one," the 35-year-old Briton said on Twitter.

McLaren boss Eric Boullier and driver Fernando Alonso have expressed their frustration with plans to limit testing to just eight days in the 2016 Formula 1 calendar. (Sky Sports)
Williams driver Felipe Massa says he cannot explain why his team performed so badly at the Hungarian Grand Prix last weekend. Massa finished 12th and team-mate Valterri Bottas 13th, having started sixth and eighth respectively. (Autosport.com)
Red Bull boss Christian Horner says he was convinced driver Daniel Ricciardo was set for a repeat of last year's surprise victory at the year Hungarian Grand Prix last weekend. The Australian placed third despite a collision with Nico Rosberg's Mercedes that forced a pit stop. (Motorsport,com)
Wednesday, 29 July
Ferrari boss Maurizio Arrivabene says the team will not be making a decision on the future of driver Kimi Raikkonen until after the summer break. (Sky Sports)
Raikkonen, who has just four points from his last three races, believes recent results have been affected by bad luck and has stressed he still has "the speed and the passion" to compete at the highest level. (ESPN)
Nico Hulkenberg says he is sure his Force India team will be able to identify and resolve the mechanical issues that led to two crashes at the Hungarian Grand Prix last weekend. (Autosport)
French car manufacturer Renault has dropped a firm hint it plans to end its relationship with Red Bull and buy the Lotus team, with a view to rebranding it for 2017. (Motorsport.com)
September's Singapore Grand Prix is likely to feature closer racing and more overtaking after Formula 1's governing body approved changes to the Marina Bay Street Circuit. (Formula1.com)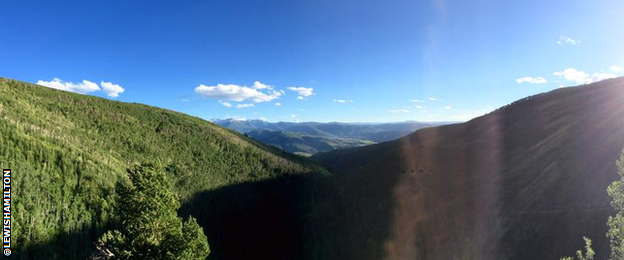 Meanwhile, Mercedes driver Lewis Hamilton is clearly enjoying a well-earned break. "Back in my favourite place to be," he tweeted, accompanying the message with a photo.
Tuesday, 28 July
Mark Webber says his relationship with former Red Bull team-mate Sebastian Vettel has vastly improved now the Australian has left Formula 1. (Motorsport.com)
Force India have denied compromising safety in the close fight for fifth in this year's constructors' world championship. (Inautonews via Bild)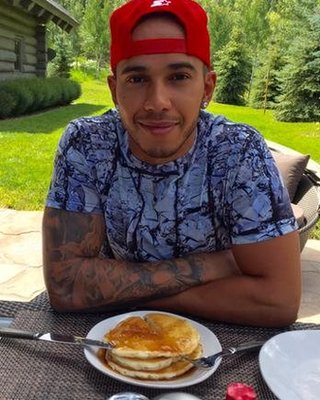 We are at the halfway stage of the current Formula 1 season and Lewis Hamilton was making the most of the chance to take a break. He said on his Twitter account: "It's officially the summer break, and the only day I can eat whatever I want so that calls for Pancakes and Bacon!", with the picture included.
Ferrari chief Maurizio Arrivabene said that Sebastian Vettel's win in Hungary at the weekend means the team have now achieved his pre-season target of two victories. (Inautonews)
Mercedes motorsport head Toto Wolff believes his team needs to sort out their starts. (Wheels24)
Lewis Hamilton laughed off his nightmare race in Hungary but Mercedes head Wolff wants answers. (Independent)
Formula 1 needs Bernie Ecclestone in charge more than ever as it seeks to chart a way through its current difficulties, according to Red Bull team chief Christian Horner. (iafrica.com via AFP)
Monday, 27 July
Mercedes' Lewis Hamilton apologised on his Instagram account after Sunday's Hungarian Grand Prix "did not go to plan". He said: "Today was yet another test of overcoming adversity and personal mistakes". (Lewis Hamilton Instagram)
Meanwhile, Hamilton went on a "secret date" with Barbados pop singer Rihanna in New York on the weekend before the Hungarian Grand Prix. (Sun)
Renault operations director Remi Taffin is expecting a stronger second half to the season after its engines powered three of the top four cars in Sunday's race. (Eurosport)
Mercedes boss Toto Wolff admits that practising their starts for August's Belgian Grand Prix at Hungaroring was a mistake. "You always should live in your time," he reflected. (Formula1.com)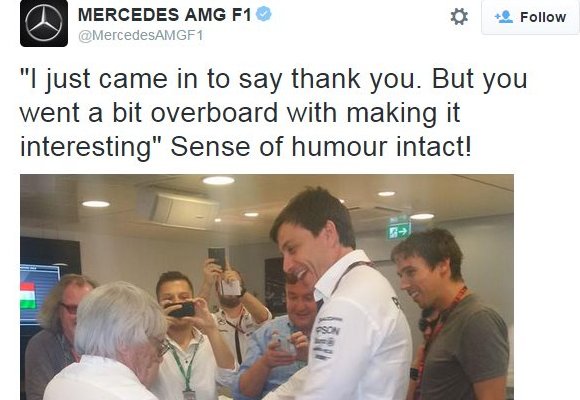 Formula 1 boss Bernie Ecclestone jokingly thanked Mercedes for making the race for the title interesting as drivers Lewis Hamilton and Nico Rosberg faltered at the centre of an incident-packed race. (Mercedes Twitter)
Red Bull's Daniel Ricciardo says he had the pace to win the Hungarian Grand Prix, but his bid for victory was scuppered by a clash of tyres with Mercedes' Nico Rosberg. (The Age)
As well as sealing his second win of the season with an excellent performance in Hungary, Ferrari's Sebastian Vettel found time this weekend to congratulate BBC F1 reporter Lee McKenzie's grandmother on her 100th birthday.