Lewis Hamilton on his new hairstyle, why he loves to travel the world and finding the right balance in life.
Drivers open to closed cockpits after deaths
After a series of fatal incidents Formula 1 drivers have admitted they are open to the idea of closed cockpits.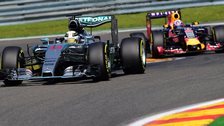 Hamilton against supplying Red Bull
Lewis Hamilton expresses his opposition to the idea of his Mercedes team supplying Red Bull with engines in the future.