Irish Football
Ballymena United snatch a dramatic 3-2 County Antrim Shield semi-final win over heartbroken Larne after extra-time.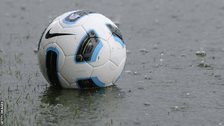 Carrick v Linfield semi-final off
Tuesday night's Co Antrim Shield semi-final between Carrick Rangers and Linfield is postponed but Larne v Ballymena goes ahead.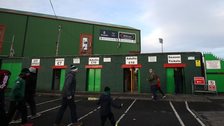 Stadium investment plan is welcomed
The Irish FA's Patrick Nelson says a £36m stadium investment programme could revolutionise football in Northern Ireland.
Irish League Show
Joel Taggart and Chris Morgan review the latest Irish Premiership action as champions Crusaders extend their lead at the top of the table.
Latest Football
Previous Results
Sat 28 Nov 2015

-

Irish Premiership
Carrick Rangers

P - P

Cliftonville

Crusaders FC 3 - 2 Ballymena United FT
Dungannon Swifts 5 - 1 Warrenpoint Town FT
Glentoran 2 - 0 Glenavon FT
Portadown 2 - 0 Linfield FT
Previous Results
Fri 27 Nov 2015 - Irish Premiership
Ballinamallard United 1 - 2 Coleraine FT
Previous Results
Sat 21 Nov 2015 - Irish Premiership
Ballymena United 1 - 1 Portadown FT
Cliftonville 3 - 1 Ballinamallard United FT
Coleraine 2 - 1 Carrick Rangers FT
Glenavon 3 - 2 Linfield FT
Glentoran 1 - 1 Dungannon Swifts FT
Warrenpoint Town 1 - 3 Crusaders FC FT
Upcoming Fixtures
Fri 4 Dec 2015 - Irish Premiership
Glenavon v Carrick Rangers 19:45
Upcoming Fixtures
Sat 5 Dec 2015 - Irish Premiership
Ballinamallard United v Glentoran 15:00
Cliftonville v Ballymena United 15:00
Dungannon Swifts v Crusaders FC 15:00
Linfield v Coleraine 15:00
Warrenpoint Town v Portadown 15:00
Upcoming Fixtures
Sat 12 Dec 2015 - Irish Premiership
Ballymena United v Warrenpoint Town 15:00
Carrick Rangers v Crusaders FC 15:00
Cliftonville v Dungannon Swifts 15:00
Coleraine v Glenavon 15:00
Linfield v Ballinamallard United 15:00
Portadown v Glentoran 15:00
League Table
Irish Premiership summary table; it charts each team by position, team name, games played, total goal difference and points

| Position | Team | Played | Goal Difference | Points |
| --- | --- | --- | --- | --- |
| No movement 1 | Crusaders FC | 18 | 31 | 45 |
| No movement 2 | Coleraine | 18 | 13 | 39 |
| No movement 3 | Cliftonville | 17 | 12 | 37 |
| No movement 4 | Linfield | 18 | 18 | 33 |
| No movement 5 | Glenavon | 18 | 17 | 31 |
| No movement 6 | Glentoran | 18 | 1 | 27 |
| No movement 7 | Portadown | 18 | -10 | 24 |
| No movement 8 | Ballymena United | 18 | -11 | 19 |
| No movement 9 | Ballinamallard United | 18 | -10 | 15 |
| Moving up 10 | Dungannon Swifts | 17 | -13 | 12 |
| Moving down 11 | Carrick Rangers | 16 | -13 | 11 |
| No movement 12 | Warrenpoint Town | 18 | -35 | 4 |
Football on BBC Northern Ireland