Irish Football
The Irish FA's Patrick Nelson says a £36m stadium investment programme could revolutionise football in Northern Ireland.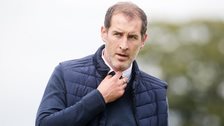 Shield semis subject to pitch inspections
Both of Tuesday night's scheduled County Antrim Shield semi-finals are subject to morning pitch inspections.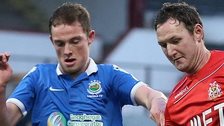 Portadown win to pile pressure on Linfield
Linfield slump to a fourth straight defeat in the Irish Premiership as Portadown seal a 2-0 victory at Shamrock Park.
Irish League Show
Joel Taggart and Chris Morgan on the latest Irish Premiership action including Linfield's 3-2 defeat at Glenavon.
Latest Football
Previous Results
Sat 28 Nov 2015

-

Irish Premiership
Carrick Rangers

P - P

Cliftonville

Crusaders FC 3 - 2 Ballymena United FT
Dungannon Swifts 5 - 1 Warrenpoint Town FT
Glentoran 2 - 0 Glenavon FT
Portadown 2 - 0 Linfield FT
Previous Results
Fri 27 Nov 2015 - Irish Premiership
Ballinamallard United 1 - 2 Coleraine FT
Previous Results
Sat 21 Nov 2015 - Irish Premiership
Ballymena United 1 - 1 Portadown FT
Cliftonville 3 - 1 Ballinamallard United FT
Coleraine 2 - 1 Carrick Rangers FT
Glenavon 3 - 2 Linfield FT
Glentoran 1 - 1 Dungannon Swifts FT
Warrenpoint Town 1 - 3 Crusaders FC FT
Upcoming Fixtures
Fri 4 Dec 2015 - Irish Premiership
Glenavon v Carrick Rangers 19:45
Upcoming Fixtures
Sat 5 Dec 2015 - Irish Premiership
Ballinamallard United v Glentoran 15:00
Cliftonville v Ballymena United 15:00
Dungannon Swifts v Crusaders FC 15:00
Linfield v Coleraine 15:00
Warrenpoint Town v Portadown 15:00
Upcoming Fixtures
Sat 12 Dec 2015 - Irish Premiership
Ballymena United v Warrenpoint Town 15:00
Carrick Rangers v Crusaders FC 15:00
Cliftonville v Dungannon Swifts 15:00
Coleraine v Glenavon 15:00
Linfield v Ballinamallard United 15:00
Portadown v Glentoran 15:00
League Table
Irish Premiership summary table; it charts each team by position, team name, games played, total goal difference and points

| Position | Team | Played | Goal Difference | Points |
| --- | --- | --- | --- | --- |
| No movement 1 | Crusaders FC | 18 | 31 | 45 |
| No movement 2 | Coleraine | 18 | 13 | 39 |
| No movement 3 | Cliftonville | 17 | 12 | 37 |
| No movement 4 | Linfield | 18 | 18 | 33 |
| No movement 5 | Glenavon | 18 | 17 | 31 |
| No movement 6 | Glentoran | 18 | 1 | 27 |
| No movement 7 | Portadown | 18 | -10 | 24 |
| No movement 8 | Ballymena United | 18 | -11 | 19 |
| No movement 9 | Ballinamallard United | 18 | -10 | 15 |
| Moving up 10 | Dungannon Swifts | 17 | -13 | 12 |
| Moving down 11 | Carrick Rangers | 16 | -13 | 11 |
| No movement 12 | Warrenpoint Town | 18 | -35 | 4 |
Football on BBC Northern Ireland