Irish Football
Luton midfielder Cameron McGeehan is likely to miss Saturday's match at Cambridge after being suspended by the Irish FA.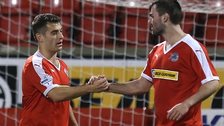 Reds start defence with Solitude win
League Cup holders Cliftonville defeat Dundela 2-1 while Dungannon and Warrenpoint also progress to the third round.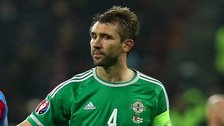 Euro 2016 qualification close - McAuley
Gareth McAuley assures NI fans the squad will not "take their foot off the pedal" as possible Euro 2016 qualification looms large.
Irish League Show
Michael McNamee and Chris Morgan review the weekend action from the Irish Premiership as Linfield move clear at the top.
Latest Football
Previous Results
Sun 30 Aug 2015

-

Irish Premiership
Warrenpoint Town

2 - 2

Cliftonville

FT
Previous Results
Sat 29 Aug 2015

-

Irish Premiership
Crusaders FC

4 - 0

Dungannon Swifts

FT

Linfield

3 - 0

Portadown

FT
Previous Results
Fri 28 Aug 2015

-

Irish Premiership
Ballymena United

1 - 1

Carrick Rangers

FT

Glenavon

0 - 0

Glentoran

FT

Coleraine

2 - 1

Ballinamallard United

FT
Previous Results
Sat 22 Aug 2015

-

Irish Premiership
Ballinamallard United

1 - 2

Portadown

FT

Cliftonville

1 - 0

Carrick Rangers

FT

Coleraine

1 - 3

Linfield

FT

Dungannon Swifts

2 - 0

Ballymena United

FT

Glenavon

1 - 2

Crusaders FC

FT

Glentoran

2 - 1

Warrenpoint Town

FT
Upcoming Fixtures
Sat 5 Sep 2015 - Irish Premiership
Ballinamallard United v Linfield 15:00
Carrick Rangers v Warrenpoint Town 15:00
Cliftonville v Crusaders FC 15:00
Dungannon Swifts v Coleraine 15:00
Glentoran v Ballymena United 15:00
Portadown v Glenavon 15:00
Upcoming Fixtures
Sat 12 Sep 2015 - Irish Premiership
Ballinamallard United v Carrick Rangers 15:00
Ballymena United v Cliftonville 15:00
Crusaders FC v Linfield 15:00
Glenavon v Coleraine 15:00
Glentoran v Portadown 15:00
Warrenpoint Town v Dungannon Swifts 15:00
League Table
Irish Premiership summary table; it charts each team by position, team name, games played, total goal difference and points

| Position | Team | Played | Goal Difference | Points |
| --- | --- | --- | --- | --- |
| No movement 1 | Linfield | 5 | 16 | 15 |
| No movement 2 | Cliftonville | 5 | 7 | 13 |
| No movement 3 | Crusaders FC | 5 | 9 | 10 |
| No movement 4 | Portadown | 5 | -1 | 9 |
| No movement 5 | Coleraine | 5 | -2 | 9 |
| No movement 6 | Glenavon | 5 | 7 | 7 |
| No movement 7 | Glentoran | 5 | 0 | 6 |
| No movement 8 | Carrick Rangers | 5 | -3 | 5 |
| No movement 9 | Ballinamallard United | 5 | -4 | 4 |
| No movement 10 | Dungannon Swifts | 5 | -7 | 4 |
| Moving up 11 | Warrenpoint Town | 5 | -8 | 1 |
| Moving down 12 | Ballymena United | 5 | -14 | 1 |
Football on BBC Northern Ireland