Irish Football
County Antrim progress to the semi-finals in both Premier and Junior competitions at the Milk Cup in Northern Ireland.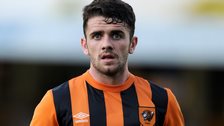 Norwich sign winger Brady from Hull
Norwich City sign Republic of Ireland winger Robbie Brady for a reported £7m from Hull City on a three-year deal.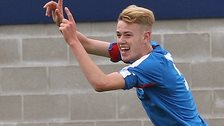 Liverpool held but Rangers win again
Liverpool are held to a 1-1 draw thanks to a late goal by GPS FC Bayern in the Milk Cup Junior Section but Rangers win again.
Irish League Show
Glentoran lift the Irish Cup but Portadown are angered by a controversial refereeing decision shortly before David Scullion's winner.
Latest Football
Upcoming Fixtures
Sat 8 Aug 2015

-

Irish Premiership
Coleraine

v

Glentoran

15:00

Crusaders FC

v

Portadown

15:00

Dungannon Swifts

v

Carrick Rangers

15:00

Glenavon

v

Cliftonville

15:00

Linfield

v

Ballymena United

15:00

Warrenpoint Town

v

Ballinamallard United

15:00
Upcoming Fixtures
Wed 12 Aug 2015

-

Irish Premiership
Ballinamallard United

v

Dungannon Swifts

19:45

Ballymena United

v

Glenavon

19:45

Carrick Rangers

v

Linfield

19:45

Cliftonville

v

Coleraine

19:45

Glentoran

v

Crusaders FC

19:45

Portadown

v

Warrenpoint Town

19:45
League Table
Irish Premiership summary table; it charts each team by position, team name, games played, total goal difference and points

| Position | Team | Played | Goal Difference | Points |
| --- | --- | --- | --- | --- |
| No movement 1 | Ballinamallard United | 0 | 0 | 0 |
| No movement 2 | Ballymena United | 0 | 0 | 0 |
| No movement 3 | Carrick Rangers | 0 | 0 | 0 |
| No movement 4 | Cliftonville | 0 | 0 | 0 |
| No movement 5 | Coleraine | 0 | 0 | 0 |
| No movement 6 | Crusaders FC | 0 | 0 | 0 |
| No movement 7 | Dungannon Swifts | 0 | 0 | 0 |
| No movement 8 | Glenavon | 0 | 0 | 0 |
| No movement 9 | Glentoran | 0 | 0 | 0 |
| No movement 10 | Linfield | 0 | 0 | 0 |
| No movement 11 | Portadown | 0 | 0 | 0 |
| No movement 12 | Warrenpoint Town | 0 | 0 | 0 |
Football on BBC Northern Ireland