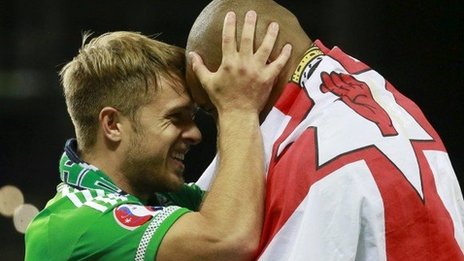 Reaction to Northern Ireland reaching Euro 2016, a famous Republic win, Scotland's elimination and today's sport news.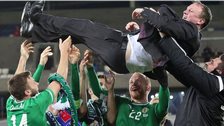 'Euro success shows NI potential'
Northern Ireland boss Michael O'Neill says qualifying for Euro 2016 shows his team's potential to achieve even more.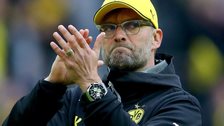 Klopp confirmed as Liverpool manager
Jurgen Klopp is appointed Liverpool's new manager, with the former Borussia Dortmund boss signing a three-year deal worth £15m.
Scores, Results & Fixtures
Latest Football
Previous Results
Thu 8 Oct 2015

-

European Championship Qualifying
Georgia

4 - 0

Gibraltar

FT

Hungary

2 - 1

Faroe Islands

FT

Romania

1 - 1

Finland

FT

Albania

0 - 2

Serbia

FT
Previous Results
Tue 8 Sep 2015

-

European Championship Qualifying
Belarus

2 - 0

Luxembourg

FT

Macedonia

0 - 1

Spain

FT
Macedonia v Ukraine 19:45
Slovakia v Belarus 19:45
Spain v Luxembourg 19:45
Slovenia v Lithuania 19:45
Switzerland v San Marino 19:45
Liechtenstein v Sweden 19:45
Moldova v Russia 19:45
Montenegro v Austria 19:45
Upcoming Fixtures
Sat 10 Oct 2015 - European Championship Qualifying
Iceland v Latvia 17:00
Kazakhstan v Netherlands 17:00
Czech Rep. v Turkey 19:45
Andorra v Belgium 19:45
Bos-Herze v Wales 19:45
Israel v Cyprus 19:45
Azerbaijan v Italy 17:00
Norway v Malta 17:00
Croatia v Bulgaria 19:45
Upcoming Fixtures
Sun 11 Oct 2015 - European Championship Qualifying
Germany v Georgia 19:45
Gibraltar v Scotland 19:45
Poland v R. of Ireland 19:45
European Championship Qualifying
Live on the BBC
Euro 2016 Qualifier, Fri, 9 Oct, 19:45 BST, BBC Radio 5 live
Explore the BBC
Preview the brand new adventure that's set on the streets of Victorian London
FRI 9 OCT

Sefton Community Parks Officers

FRI 9 OCT

Active West Lothian (West Lothian Council)

FRI 9 OCT

Active West Lothian (West Lothian Council)