Liverpool manager Jurgen Klopp says it is "in everyone's best interest to find a solution" to the Anfield ticket row.
I am staying at Real Madrid - Ronaldo
Real Madrid forward Cristiano Ronaldo says he will not leave the club before his contract expires in 2018.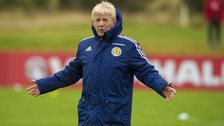 Scotland to face France in friendly
Scotland will travel to face Euro 2016 hosts France in a friendly in June, a week before the tournament.
Scores, Results & Fixtures
Latest Football
Upcoming Fixtures
Tue 9 Feb 2016 - FA Cup
Upcoming Fixtures
Wed 10 Feb 2016 - FA Cup
Peterborough v West Brom 19:45
Upcoming Fixtures
Sat 20 Feb 2016 - FA Cup
Arsenal v Hull 12:45
Reading v West Brom or Peterborough 15:00
Watford v Leeds 15:00
Bournemouth v Everton 17:15
Upcoming Fixtures
Sun 21 Feb 2016 - FA Cup
Blackburn v Liverpool or West Ham 14:00
Tottenham v Crystal Palace 15:00
Chelsea v Man City 16:00
Upcoming Fixtures
Mon 22 Feb 2016 - FA Cup
Shrewsbury v Man Utd 19:45
Explore the BBC
How did Guns N' Roses become the most dangerous band in the world?
MON 8 FEB

Beechcroft Tennis and Multi Sports Community Club

MON 8 FEB

Gloucestershire Football Association

MON 8 FEB

Lincoln City FC Sport and Education Trust