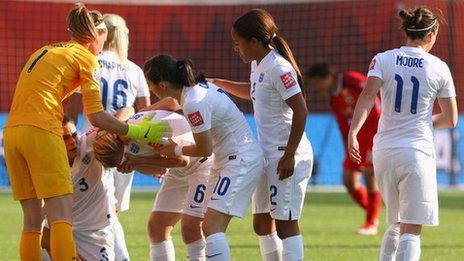 England suffer semi-final heartbreak in the Women's World Cup as an injury-time own goal sends Japan through to the final.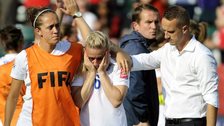 Sampson 'so proud of England heroes'
England boss Mark Sampson says his side deserve to head home as heroes after suffering a semi-final defeat by Japan.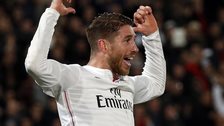 Ramos 'would only leave for Man Utd'
Sergio Ramos will only leave Real Madrid to join Manchester United, according to former Real president Ramon Calderon.
Scores, Results & Fixtures
Latest Football
Previous Results
Wed 1 Jul 2015

-

Women's World Cup
Previous Results
Sun 28 Jun 2015

-

Women's World Cup
Previous Results
Sat 27 Jun 2015

-

Women's World Cup
Previous Results
Fri 26 Jun 2015

-

Women's World Cup
Previous Results
Wed 24 Jun 2015 - Women's World Cup
Previous Results
Tue 23 Jun 2015 - Women's World Cup
Previous Results
Mon 22 Jun 2015 - Women's World Cup
Previous Results
Sun 21 Jun 2015 - Women's World Cup
Upcoming Fixtures
Sat 4 Jul 2015 - Women's World Cup
Germany Women v England Women 21:00
Upcoming Fixtures
Mon 6 Jul 2015 - Women's World Cup
USA Women v Japan Women 00:00
Women's World Cup
Group A
Women's World Cup Group A summary table; it charts each team by position, team name, games played, total goal difference and points

| Position | Team | Played | Goal Difference | Points |
| --- | --- | --- | --- | --- |
| No movement 1 | Canada Women | 3 | 1 | 5 |
| No movement 2 | China Women | 3 | 0 | 4 |
| No movement 3 | Netherlands Women | 3 | 0 | 4 |
| No movement 4 | New Zealand Women | 3 | -1 | 2 |
Group B
Women's World Cup Group B summary table; it charts each team by position, team name, games played, total goal difference and points

| Position | Team | Played | Goal Difference | Points |
| --- | --- | --- | --- | --- |
| No movement 1 | Germany Women | 3 | 14 | 7 |
| No movement 2 | Norway Women | 3 | 6 | 7 |
| No movement 3 | Thailand Women | 3 | -7 | 3 |
| No movement 4 | Ivory Coast Women | 3 | -13 | 0 |
Group C
Women's World Cup Group C summary table; it charts each team by position, team name, games played, total goal difference and points

| Position | Team | Played | Goal Difference | Points |
| --- | --- | --- | --- | --- |
| No movement 1 | Japan Women | 3 | 3 | 9 |
| No movement 2 | Cameroon Women | 3 | 6 | 6 |
| No movement 3 | Switzerland Women | 3 | 7 | 3 |
| No movement 4 | Ecuador Women | 3 | -16 | 0 |
Group D
Women's World Cup Group D summary table; it charts each team by position, team name, games played, total goal difference and points

| Position | Team | Played | Goal Difference | Points |
| --- | --- | --- | --- | --- |
| No movement 1 | USA Women | 3 | 3 | 7 |
| No movement 2 | Australia Women | 3 | 0 | 4 |
| No movement 3 | Sweden Women | 3 | 0 | 3 |
| No movement 4 | Nigeria Women | 3 | -3 | 1 |
Group E
Women's World Cup Group E summary table; it charts each team by position, team name, games played, total goal difference and points

| Position | Team | Played | Goal Difference | Points |
| --- | --- | --- | --- | --- |
| No movement 1 | Brazil Women | 3 | 4 | 9 |
| No movement 2 | South Korea Women | 3 | -1 | 4 |
| No movement 3 | Costa Rica Women | 3 | -1 | 2 |
| No movement 4 | Spain Women | 3 | -2 | 1 |
Group F
Women's World Cup Group F summary table; it charts each team by position, team name, games played, total goal difference and points

| Position | Team | Played | Goal Difference | Points |
| --- | --- | --- | --- | --- |
| No movement 1 | France Women | 3 | 4 | 6 |
| No movement 2 | England Women | 3 | 1 | 6 |
| No movement 3 | Colombia Women | 3 | 1 | 4 |
| No movement 4 | Mexico Women | 3 | -6 | 1 |
Live on the BBC
Europa League, Thu 2 Jul, 19:45 BST BBC London 94.9 (UK only)
Explore the BBC
Martin Tyler and Alan Smith reveal how they add a touch of reality to the virtual world
THU 2 JUL

Active West Lothian (West Lothian Council)

THU 2 JUL

Gloucestershire FA

THU 2 JUL

Durham Codgers Walking Football Club