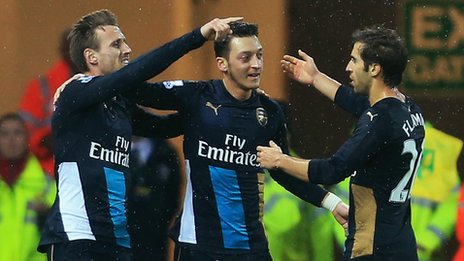 Lewis Grabban scores an equaliser for Norwich as they draw 1-1 with Arsenal, who suffer injuries to Laurent Koscielny and Alexis Sanchez.
Milner penalty sinks struggling Swansea
James Milner scores from the penalty spot to give Jurgen Klopp his first Premier League win at Anfield.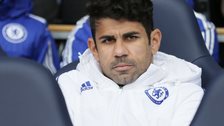 Mourinho plays down Costa bib throw
Chelsea boss Jose Mourinho says there is "no issue" with Diego Costa after the striker was left on the bench at Tottenham.
Scores, Results & Fixtures
Latest Football
Previous Results
Sat 28 Nov 2015

-

Premier League
Previous Results
Mon 23 Nov 2015

-

Premier League
Previous Results
Sun 22 Nov 2015

-

Premier League
Previous Results
Sat 21 Nov 2015

-

Premier League
Upcoming Fixtures
Sat 5 Dec 2015 - Premier League
Stoke v Man City 12:45
Arsenal v Sunderland 15:00
Man Utd v West Ham 15:00
Southampton v Aston Villa 15:00
Swansea v Leicester 15:00
Watford v Norwich 15:00
West Brom v Tottenham 15:00
Chelsea v Bournemouth 17:30
Upcoming Fixtures
Sun 6 Dec 2015 - Premier League
Newcastle v Liverpool 16:00
Upcoming Fixtures
Mon 7 Dec 2015 - Premier League
Everton v Crystal Palace 20:00
Upcoming Fixtures
Sat 12 Dec 2015 - Premier League
Norwich v Everton 12:45
Crystal Palace v Southampton 15:00
Live on the BBC
Sun 29 Nov, 22:30 GMT, BBC One (23:25 GMT Scotland)
Explore the BBC
A body builder talks about the true impact that steroids can have
SUN 29 NOV

ICA Sports FC

SUN 29 NOV

Football Buzz

SUN 29 NOV

Football Buzz