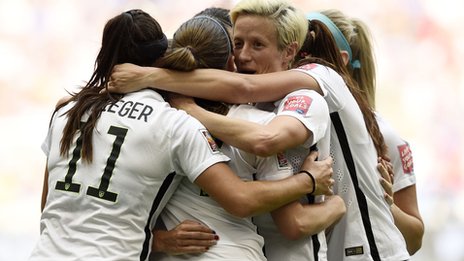 USA beat former champions Japan in Vancouver to become the first nation to win three Women's World Cups.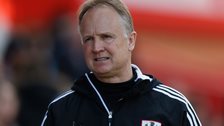 O'Driscoll to be Liverpool assistant
Liverpool will name England Under-19s boss Sean O'Driscoll as their new assistant manager on Monday.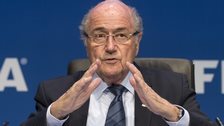 Blatter blames politics for Qatar vote
French and German presidents applied pressure prior to the 2018 and 2022 World Cup votes, says Fifa president Sepp Blatter.
Scores, Results & Fixtures
Latest Football
Previous Results
Sat 4 Jul 2015

-

Women's World Cup
Previous Results
Thu 2 Jul 2015

-

Women's World Cup
Previous Results
Wed 1 Jul 2015

-

Women's World Cup
Previous Results
Sun 28 Jun 2015

-

Women's World Cup
Previous Results
Sat 27 Jun 2015

-

Women's World Cup
Previous Results
Fri 26 Jun 2015

-

Women's World Cup
Previous Results
Wed 24 Jun 2015 - Women's World Cup
Previous Results
Tue 23 Jun 2015 - Women's World Cup
Previous Results
Mon 22 Jun 2015 - Women's World Cup
Previous Results
Sun 21 Jun 2015 - Women's World Cup
Women's World Cup
Group A
Women's World Cup Group A summary table; it charts each team by position, team name, games played, total goal difference and points

| Position | Team | Played | Goal Difference | Points |
| --- | --- | --- | --- | --- |
| No movement 1 | Canada Women | 3 | 1 | 5 |
| No movement 2 | China Women | 3 | 0 | 4 |
| No movement 3 | Netherlands Women | 3 | 0 | 4 |
| No movement 4 | New Zealand Women | 3 | -1 | 2 |
Group B
Women's World Cup Group B summary table; it charts each team by position, team name, games played, total goal difference and points

| Position | Team | Played | Goal Difference | Points |
| --- | --- | --- | --- | --- |
| No movement 1 | Germany Women | 3 | 14 | 7 |
| No movement 2 | Norway Women | 3 | 6 | 7 |
| No movement 3 | Thailand Women | 3 | -7 | 3 |
| No movement 4 | Ivory Coast Women | 3 | -13 | 0 |
Group C
Women's World Cup Group C summary table; it charts each team by position, team name, games played, total goal difference and points

| Position | Team | Played | Goal Difference | Points |
| --- | --- | --- | --- | --- |
| No movement 1 | Japan Women | 3 | 3 | 9 |
| No movement 2 | Cameroon Women | 3 | 6 | 6 |
| No movement 3 | Switzerland Women | 3 | 7 | 3 |
| No movement 4 | Ecuador Women | 3 | -16 | 0 |
Group D
Women's World Cup Group D summary table; it charts each team by position, team name, games played, total goal difference and points

| Position | Team | Played | Goal Difference | Points |
| --- | --- | --- | --- | --- |
| No movement 1 | USA Women | 3 | 3 | 7 |
| No movement 2 | Australia Women | 3 | 0 | 4 |
| No movement 3 | Sweden Women | 3 | 0 | 3 |
| No movement 4 | Nigeria Women | 3 | -3 | 1 |
Group E
Women's World Cup Group E summary table; it charts each team by position, team name, games played, total goal difference and points

| Position | Team | Played | Goal Difference | Points |
| --- | --- | --- | --- | --- |
| No movement 1 | Brazil Women | 3 | 4 | 9 |
| No movement 2 | South Korea Women | 3 | -1 | 4 |
| No movement 3 | Costa Rica Women | 3 | -1 | 2 |
| No movement 4 | Spain Women | 3 | -2 | 1 |
Group F
Women's World Cup Group F summary table; it charts each team by position, team name, games played, total goal difference and points

| Position | Team | Played | Goal Difference | Points |
| --- | --- | --- | --- | --- |
| No movement 1 | France Women | 3 | 4 | 6 |
| No movement 2 | England Women | 3 | 1 | 6 |
| No movement 3 | Colombia Women | 3 | 1 | 4 |
| No movement 4 | Mexico Women | 3 | -6 | 1 |
Live on the BBC
Mon 6 July, 21:00 BST, BBC Radio 5 live
Explore the BBC
Find out how Lee Selby goes to extreme lengths in order to be the best
MON 6 JUL

Wiltshire FA

MON 6 JUL

Beechcroft Tennis and Multi Sports Community Club

MON 6 JUL

Middlesbrough Active Sports