Manchester United make a £28.6m bid for Real Madrid defender Sergio Ramos, and believe the Spain international wants to leave.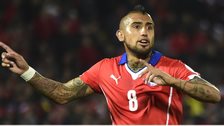 Live
Chile v Peru
Live text commentary from the Copa America semi-final as hosts Chile, who have never won the tournament, take on Peru.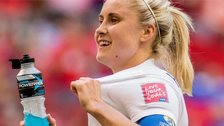 'Biggest game in England's history'
Captain Steph Houghton says her team's World Cup semi-final against Japan is the biggest game in English women's football history.
Scores, Results & Fixtures
Latest Football
Previous Results
Sun 28 Jun 2015

-

Women's World Cup
Previous Results
Sat 27 Jun 2015

-

Women's World Cup
Previous Results
Fri 26 Jun 2015

-

Women's World Cup
Previous Results
Wed 24 Jun 2015 - Women's World Cup
Previous Results
Tue 23 Jun 2015 - Women's World Cup
Previous Results
Mon 22 Jun 2015 - Women's World Cup
Previous Results
Sun 21 Jun 2015 - Women's World Cup
Previous Results
Sat 20 Jun 2015 - Women's World Cup
Upcoming Fixtures
Wed 1 Jul 2015 - Women's World Cup
Upcoming Fixtures
Thu 2 Jul 2015 - Women's World Cup
Japan Women v England Women 00:00
Upcoming Fixtures
Sat 4 Jul 2015 - Women's World Cup
3rd Place Play Off 1 v 3rd Place Play Off 2 21:00
Upcoming Fixtures
Mon 6 Jul 2015 - Women's World Cup
Finalist 1 v Finalist 2 00:00
Women's World Cup
Group A
Women's World Cup Group A summary table; it charts each team by position, team name, games played, total goal difference and points

| Position | Team | Played | Goal Difference | Points |
| --- | --- | --- | --- | --- |
| No movement 1 | Canada Women | 3 | 1 | 5 |
| No movement 2 | China Women | 3 | 0 | 4 |
| No movement 3 | Netherlands Women | 3 | 0 | 4 |
| No movement 4 | New Zealand Women | 3 | -1 | 2 |
Group B
Women's World Cup Group B summary table; it charts each team by position, team name, games played, total goal difference and points

| Position | Team | Played | Goal Difference | Points |
| --- | --- | --- | --- | --- |
| No movement 1 | Germany Women | 3 | 14 | 7 |
| No movement 2 | Norway Women | 3 | 6 | 7 |
| No movement 3 | Thailand Women | 3 | -7 | 3 |
| No movement 4 | Ivory Coast Women | 3 | -13 | 0 |
Group C
Women's World Cup Group C summary table; it charts each team by position, team name, games played, total goal difference and points

| Position | Team | Played | Goal Difference | Points |
| --- | --- | --- | --- | --- |
| No movement 1 | Japan Women | 3 | 3 | 9 |
| No movement 2 | Cameroon Women | 3 | 6 | 6 |
| No movement 3 | Switzerland Women | 3 | 7 | 3 |
| No movement 4 | Ecuador Women | 3 | -16 | 0 |
Group D
Women's World Cup Group D summary table; it charts each team by position, team name, games played, total goal difference and points

| Position | Team | Played | Goal Difference | Points |
| --- | --- | --- | --- | --- |
| No movement 1 | USA Women | 3 | 3 | 7 |
| No movement 2 | Australia Women | 3 | 0 | 4 |
| No movement 3 | Sweden Women | 3 | 0 | 3 |
| No movement 4 | Nigeria Women | 3 | -3 | 1 |
Group E
Women's World Cup Group E summary table; it charts each team by position, team name, games played, total goal difference and points

| Position | Team | Played | Goal Difference | Points |
| --- | --- | --- | --- | --- |
| No movement 1 | Brazil Women | 3 | 4 | 9 |
| No movement 2 | South Korea Women | 3 | -1 | 4 |
| No movement 3 | Costa Rica Women | 3 | -1 | 2 |
| No movement 4 | Spain Women | 3 | -2 | 1 |
Group F
Women's World Cup Group F summary table; it charts each team by position, team name, games played, total goal difference and points

| Position | Team | Played | Goal Difference | Points |
| --- | --- | --- | --- | --- |
| No movement 1 | France Women | 3 | 4 | 6 |
| No movement 2 | England Women | 3 | 1 | 6 |
| No movement 3 | Colombia Women | 3 | 1 | 4 |
| No movement 4 | Mexico Women | 3 | -6 | 1 |
Live on the BBC
Women's World Cup semi-final, Tue 30 June, 23:20 BST, BBC Two

Women's World Cup semi-final, Wed 1 July, 23:10 BST, BBC Two

Women's World Cup, Wed 1 Jul, 00:00 BST, BBC Radio 5 live
Explore the BBC
Find out how you could join Chris Evans on the new series of Top Gear
MON 29 JUN

Wiltshire FA

MON 29 JUN

Active West Lothian (West Lothian Council)

MON 29 JUN

Beechcroft Tennis and Multi Sports Community Club