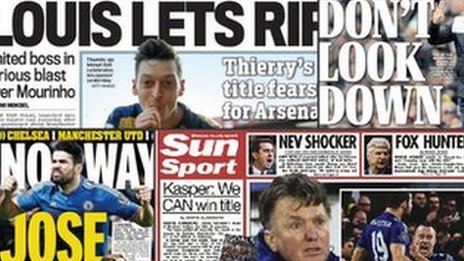 The latest from the Premier League, football gossip, what the papers say, plus breaking news, debate and social media.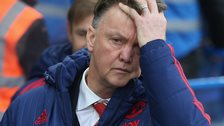 Mourinho story made up, says Van Gaal
Manchester United manager Louis van Gaal says the club do not need to deny stories linking Jose Mourinho with Old Trafford.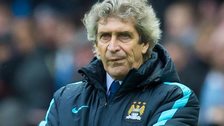 'Sole focus gives Leicester advantage'
Having sole focus on the Premier League gives leaders Leicester an advantage, Manchester City boss Manuel Pellegrini says.
Scores, Results & Fixtures
Latest Football
Upcoming Fixtures
Tue 9 Feb 2016 - FA Cup
West Ham v Liverpool 19:45
Upcoming Fixtures
Wed 10 Feb 2016 - FA Cup
Peterborough v West Brom 19:45
Upcoming Fixtures
Sat 20 Feb 2016 - FA Cup
Arsenal v Hull 12:45
Reading v West Brom or Peterborough 15:00
Watford v Leeds 15:00
Bournemouth v Everton 17:15
Upcoming Fixtures
Sun 21 Feb 2016 - FA Cup
Blackburn v Liverpool or West Ham 14:00
Tottenham v Crystal Palace 15:00
Chelsea v Man City 16:00
Upcoming Fixtures
Mon 22 Feb 2016 - FA Cup
Shrewsbury v Man Utd 19:45
Explore the BBC
Relive the best BBC moments from your lifetime
MON 8 FEB

Beechcroft Tennis and Multi Sports Community Club

MON 8 FEB

Gloucestershire Football Association

MON 8 FEB

Lincoln City FC Sport and Education Trust