Sepp Blatter reportedly says he is being "condemned without evidence for wrongdoing", while Chung Mong-joon plans to sue him.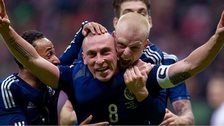 Live
Sportsday - rolling football news
Build-up to the Euro 2016 qualifiers, Liverpool manager latest, breaking sports news, best of social media and debate.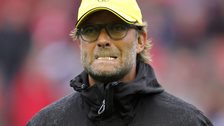 Liverpool close to appointing Klopp
Liverpool are close to appointing former Borussia Dortmund boss Jurgen Klopp as their manager on a three-year deal.
Scores, Results & Fixtures
Latest Football
Previous Results
Tue 8 Sep 2015

-

European Championship Qualifying
Belarus

2 - 0

Luxembourg

FT

Macedonia

0 - 1

Spain

FT

Slovakia

0 - 0

Ukraine

FT

Slovenia

1 - 0

Estonia

FT

Liechtenstein

0 - 7

Russia

FT

Moldova

0 - 2

Montenegro

FT

Sweden

1 - 4

Austria

FT
Previous Results
Mon 7 Sep 2015

-

European Championship Qualifying
Upcoming Fixtures
Thu 8 Oct 2015 - European Championship Qualifying
Georgia v Gibraltar 17:00
Scotland v Poland 19:45
Hungary v Faroe Islands 19:45
Northern Ireland v Greece 19:45
Romania v Finland 19:45
Albania v Serbia 19:45
Portugal v Denmark 19:45
Upcoming Fixtures
Fri 9 Oct 2015 - European Championship Qualifying
Macedonia v Ukraine 19:45
Slovakia v Belarus 19:45
Spain v Luxembourg 19:45
England v Estonia 19:45
European Championship Qualifying
Live on the BBC
Euro 2016 Qualifier, Thu, 8 Oct, 19:45 BST, BBC Radio 5 live

Euro 2016 Qualifier:, Fri, 9 Oct, 19:45 BST, BBC Radio 5 live
Explore the BBC
Wayne Busbridge who completely lost his sight 13 years ago shares his match day experience
WED 7 OCT

Netherton Walkers FC

WED 7 OCT

The Dorset Mental Health Forum

WED 7 OCT

Active West Lothian (West Lothian Council)