Striker Lukas Podolski leaves Arsenal and will complete his move to Galatasaray, according to the Turkish champions.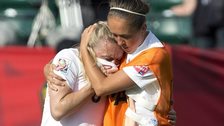 'I couldn't breathe after own goal'
Laura Bassett says she is "heartbroken" at scoring the own goal that ended England hopes of winning the Women's World Cup.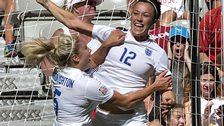 England look to make World Cup history
Boss Mark Sampson wants England to break new ground by beating Germany to third place at the Women's World Cup.
Scores, Results & Fixtures
Latest Football
Previous Results
Thu 2 Jul 2015

-

Women's World Cup
Previous Results
Wed 1 Jul 2015

-

Women's World Cup
Previous Results
Sun 28 Jun 2015

-

Women's World Cup
Previous Results
Sat 27 Jun 2015

-

Women's World Cup
Previous Results
Fri 26 Jun 2015

-

Women's World Cup
Previous Results
Wed 24 Jun 2015 - Women's World Cup
Previous Results
Tue 23 Jun 2015 - Women's World Cup
Previous Results
Mon 22 Jun 2015 - Women's World Cup
Previous Results
Sun 21 Jun 2015 - Women's World Cup
Upcoming Fixtures
Mon 6 Jul 2015 - Women's World Cup
USA Women v Japan Women 00:00
Women's World Cup
Group A
Women's World Cup Group A summary table; it charts each team by position, team name, games played, total goal difference and points

| Position | Team | Played | Goal Difference | Points |
| --- | --- | --- | --- | --- |
| No movement 1 | Canada Women | 3 | 1 | 5 |
| No movement 2 | China Women | 3 | 0 | 4 |
| No movement 3 | Netherlands Women | 3 | 0 | 4 |
| No movement 4 | New Zealand Women | 3 | -1 | 2 |
Group B
Women's World Cup Group B summary table; it charts each team by position, team name, games played, total goal difference and points

| Position | Team | Played | Goal Difference | Points |
| --- | --- | --- | --- | --- |
| No movement 1 | Germany Women | 3 | 14 | 7 |
| No movement 2 | Norway Women | 3 | 6 | 7 |
| No movement 3 | Thailand Women | 3 | -7 | 3 |
| No movement 4 | Ivory Coast Women | 3 | -13 | 0 |
Group C
Women's World Cup Group C summary table; it charts each team by position, team name, games played, total goal difference and points

| Position | Team | Played | Goal Difference | Points |
| --- | --- | --- | --- | --- |
| No movement 1 | Japan Women | 3 | 3 | 9 |
| No movement 2 | Cameroon Women | 3 | 6 | 6 |
| No movement 3 | Switzerland Women | 3 | 7 | 3 |
| No movement 4 | Ecuador Women | 3 | -16 | 0 |
Group D
Women's World Cup Group D summary table; it charts each team by position, team name, games played, total goal difference and points

| Position | Team | Played | Goal Difference | Points |
| --- | --- | --- | --- | --- |
| No movement 1 | USA Women | 3 | 3 | 7 |
| No movement 2 | Australia Women | 3 | 0 | 4 |
| No movement 3 | Sweden Women | 3 | 0 | 3 |
| No movement 4 | Nigeria Women | 3 | -3 | 1 |
Group E
Women's World Cup Group E summary table; it charts each team by position, team name, games played, total goal difference and points

| Position | Team | Played | Goal Difference | Points |
| --- | --- | --- | --- | --- |
| No movement 1 | Brazil Women | 3 | 4 | 9 |
| No movement 2 | South Korea Women | 3 | -1 | 4 |
| No movement 3 | Costa Rica Women | 3 | -1 | 2 |
| No movement 4 | Spain Women | 3 | -2 | 1 |
Group F
Women's World Cup Group F summary table; it charts each team by position, team name, games played, total goal difference and points

| Position | Team | Played | Goal Difference | Points |
| --- | --- | --- | --- | --- |
| No movement 1 | France Women | 3 | 4 | 6 |
| No movement 2 | England Women | 3 | 1 | 6 |
| No movement 3 | Colombia Women | 3 | 1 | 4 |
| No movement 4 | Mexico Women | 3 | -6 | 1 |
Live on the BBC
3rd place play-off, Sat 4 July, 20:30 BST, BBC Three

Sun 5 July, 23:30 BST, BBC Two
Explore the BBC
Find out how Lee Selby goes to extreme lengths in order to be the best