Karen Carney says she is "devastated" for England's Laura Bassett, who scored an own goal in the semi-final loss to Japan.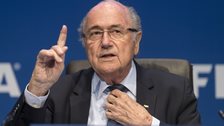 Blatter says he has clean conscience
Fifa president Sepp Blatter says he has a clean conscience and anyone who calls him corrupt should be sent to jail.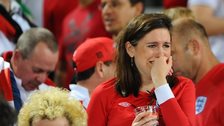 Have England upset the football gods?
After England's agonising exit from the Women's World Cup, is the country forever fated to fail on football's biggest stage?
Scores, Results & Fixtures
Latest Football
Previous Results
Tue 30 Jun 2015

-

Europa League
Balzan FC

0 - 2

Zeljeznicar Sarajevo

FT

Progrès Niedercorn

0 - 0

Shamrock Rovers

FT

Renova

0 - 1

Dacia Chisinau

FT
Previous Results
Wed 27 May 2015

-

Europa League
Previous Results
Thu 14 May 2015

-

Europa League
Fiorentina

0 - 2

Sevilla

(agg 0 - 5)

FT
Previous Results
Thu 7 May 2015

-

Europa League
Previous Results
Thu 23 Apr 2015

-

Europa League
Ordabasy 0 - 0 Beitar Jerusalem FT
Shirak FC 2 - 0 Zrinjski Mostar FT
Kruoja 0 - 1 Jagiellonia Bialystok FT
KF Laci 1 - 1 Inter Baku FT
Aktobe 0 - 1 Nomme Kalju FT
Atlantas 0 - 2 Beroe Stara Zagora FT
Upcoming Fixtures
Tue 7 Jul 2015 - Europa League
Shamrock Rovers v Progrès Niedercorn

(agg 0 - 0)

20:00
Upcoming Fixtures
Thu 9 Jul 2015 - Europa League
AIK v VPS Vaasa

(agg 2 - 2)

15:00
Apollon Limassol v FC Saxan 15:00
Bala Town v Differdange 03

(agg NaN - NaN)

15:00
Beitar Jerusalem v Ordabasy

(agg 0 - 0)

15:00
Beroe Stara Zagora v Atlantas

(agg NaN - NaN)

15:00
Dacia Chisinau v Renova

(agg 1 - 0)

15:00
FC Tskhinvali v FC Botosani 15:00
FC Vaduz v La Fiorita 15:00
FK Qabala v Dinamo Tbilisi 15:00
FK Spartaks Jurmala v Buducnost Podgorica 15:00
HB Tórshavn v Trakai 15:00
Women's World Cup
Group A
Women's World Cup Group A summary table; it charts each team by position, team name, games played, total goal difference and points

| Position | Team | Played | Goal Difference | Points |
| --- | --- | --- | --- | --- |
| No movement 1 | Canada Women | 3 | 1 | 5 |
| No movement 2 | China Women | 3 | 0 | 4 |
| No movement 3 | Netherlands Women | 3 | 0 | 4 |
| No movement 4 | New Zealand Women | 3 | -1 | 2 |
Group B
Women's World Cup Group B summary table; it charts each team by position, team name, games played, total goal difference and points

| Position | Team | Played | Goal Difference | Points |
| --- | --- | --- | --- | --- |
| No movement 1 | Germany Women | 3 | 14 | 7 |
| No movement 2 | Norway Women | 3 | 6 | 7 |
| No movement 3 | Thailand Women | 3 | -7 | 3 |
| No movement 4 | Ivory Coast Women | 3 | -13 | 0 |
Group C
Women's World Cup Group C summary table; it charts each team by position, team name, games played, total goal difference and points

| Position | Team | Played | Goal Difference | Points |
| --- | --- | --- | --- | --- |
| No movement 1 | Japan Women | 3 | 3 | 9 |
| No movement 2 | Cameroon Women | 3 | 6 | 6 |
| No movement 3 | Switzerland Women | 3 | 7 | 3 |
| No movement 4 | Ecuador Women | 3 | -16 | 0 |
Group D
Women's World Cup Group D summary table; it charts each team by position, team name, games played, total goal difference and points

| Position | Team | Played | Goal Difference | Points |
| --- | --- | --- | --- | --- |
| No movement 1 | USA Women | 3 | 3 | 7 |
| No movement 2 | Australia Women | 3 | 0 | 4 |
| No movement 3 | Sweden Women | 3 | 0 | 3 |
| No movement 4 | Nigeria Women | 3 | -3 | 1 |
Group E
Women's World Cup Group E summary table; it charts each team by position, team name, games played, total goal difference and points

| Position | Team | Played | Goal Difference | Points |
| --- | --- | --- | --- | --- |
| No movement 1 | Brazil Women | 3 | 4 | 9 |
| No movement 2 | South Korea Women | 3 | -1 | 4 |
| No movement 3 | Costa Rica Women | 3 | -1 | 2 |
| No movement 4 | Spain Women | 3 | -2 | 1 |
Group F
Women's World Cup Group F summary table; it charts each team by position, team name, games played, total goal difference and points

| Position | Team | Played | Goal Difference | Points |
| --- | --- | --- | --- | --- |
| No movement 1 | France Women | 3 | 4 | 6 |
| No movement 2 | England Women | 3 | 1 | 6 |
| No movement 3 | Colombia Women | 3 | 1 | 4 |
| No movement 4 | Mexico Women | 3 | -6 | 1 |
Live on the BBC
Europa League, Thu 2 Jul, 19:45 BST BBC London 94.9 (UK only)
Explore the BBC
Martin Tyler and Alan Smith reveal how they add a touch of reality to the virtual world
THU 2 JUL

Active West Lothian (West Lothian Council)

THU 2 JUL

Gloucestershire FA

THU 2 JUL

Durham Codgers Walking Football Club