Fifa provisionally suspends president Sepp Blatter, secretary general Jerome Valcke and Uefa chief Michel Platini for 90 days.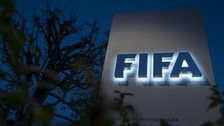 Live
Sportsday - Klopp & Fifa updates
Jurgen Klopp agrees deal to be Liverpool boss, Fifa suspensions, countdown to Euro 2016 qualifiers and #mysportingpoem.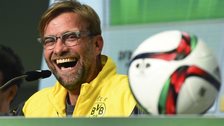 Klopp agrees three-year Liverpool deal
Former Borussia Dortmund boss Jurgen Klopp agrees a three-year deal to succeed Brendan Rodgers as Liverpool manager.
Scores, Results & Fixtures
Latest Football
Previous Results
Tue 8 Sep 2015

-

European Championship Qualifying
Belarus

2 - 0

Luxembourg

FT

Macedonia

0 - 1

Spain

FT

Slovakia

0 - 0

Ukraine

FT

Slovenia

1 - 0

Estonia

FT

Liechtenstein

0 - 7

Russia

FT

Moldova

0 - 2

Montenegro

FT

Sweden

1 - 4

Austria

FT
Previous Results
Mon 7 Sep 2015

-

European Championship Qualifying
Georgia 3 - 0 Gibraltar HT
Hungary v Faroe Islands 19:45
Romania v Finland 19:45
Albania v Serbia 19:45
Portugal v Denmark 19:45
Upcoming Fixtures
Fri 9 Oct 2015 - European Championship Qualifying
Macedonia v Ukraine 19:45
Slovakia v Belarus 19:45
Spain v Luxembourg 19:45
England v Estonia 19:45
Slovenia v Lithuania 19:45
Switzerland v San Marino 19:45
Liechtenstein v Sweden 19:45
Moldova v Russia 19:45
Montenegro v Austria 19:45
Upcoming Fixtures
Sat 10 Oct 2015 - European Championship Qualifying
Iceland v Latvia 17:00
Kazakhstan v Netherlands 17:00
Czech Rep. v Turkey 19:45
European Championship Qualifying
Live on the BBC
Euro 2016 Qualifier, Thu, 8 Oct, 19:45 BST, BBC Radio 5 live

Euro 2016 Qualifier, Fri, 9 Oct, 19:45 BST, BBC Radio 5 live
Explore the BBC
Preview the brand new adventure that's set on the streets of Victorian London
THU 8 OCT

Sports Active Seagulls Community Trust

THU 8 OCT

Chelmsford Walking Football

THU 8 OCT

The Dorset Mental Health Forum