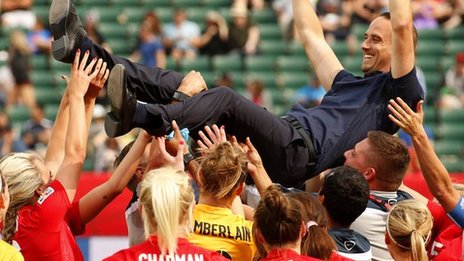 England head coach Mark Sampson said his players deserve to be legends after finishing third at the Women's World Cup.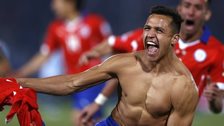 Chile win Copa on penalties
Hosts Chile beat Argentina 4-1 in a penalty shootout to win the Copa America for the first time after the final finishes goalless.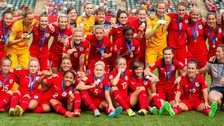 England finish third at World Cup
Fara Williams's extra-time penalty gives England a first win over Germany to seal third place at the Women's World Cup.
Scores, Results & Fixtures
Latest Football
Previous Results
Sat 4 Jul 2015

-

Women's World Cup
Previous Results
Thu 2 Jul 2015

-

Women's World Cup
Previous Results
Wed 1 Jul 2015

-

Women's World Cup
Previous Results
Sun 28 Jun 2015

-

Women's World Cup
Previous Results
Sat 27 Jun 2015

-

Women's World Cup
Previous Results
Fri 26 Jun 2015

-

Women's World Cup
Previous Results
Wed 24 Jun 2015 - Women's World Cup
Previous Results
Tue 23 Jun 2015 - Women's World Cup
Previous Results
Mon 22 Jun 2015 - Women's World Cup
Previous Results
Sun 21 Jun 2015 - Women's World Cup
Upcoming Fixtures Mon 6 Jul 2015 - Women's World Cup
Women's World Cup
Group A
Women's World Cup Group A summary table; it charts each team by position, team name, games played, total goal difference and points

| Position | Team | Played | Goal Difference | Points |
| --- | --- | --- | --- | --- |
| No movement 1 | Canada Women | 3 | 1 | 5 |
| No movement 2 | China Women | 3 | 0 | 4 |
| No movement 3 | Netherlands Women | 3 | 0 | 4 |
| No movement 4 | New Zealand Women | 3 | -1 | 2 |
Group B
Women's World Cup Group B summary table; it charts each team by position, team name, games played, total goal difference and points

| Position | Team | Played | Goal Difference | Points |
| --- | --- | --- | --- | --- |
| No movement 1 | Germany Women | 3 | 14 | 7 |
| No movement 2 | Norway Women | 3 | 6 | 7 |
| No movement 3 | Thailand Women | 3 | -7 | 3 |
| No movement 4 | Ivory Coast Women | 3 | -13 | 0 |
Group C
Women's World Cup Group C summary table; it charts each team by position, team name, games played, total goal difference and points

| Position | Team | Played | Goal Difference | Points |
| --- | --- | --- | --- | --- |
| No movement 1 | Japan Women | 3 | 3 | 9 |
| No movement 2 | Cameroon Women | 3 | 6 | 6 |
| No movement 3 | Switzerland Women | 3 | 7 | 3 |
| No movement 4 | Ecuador Women | 3 | -16 | 0 |
Group D
Women's World Cup Group D summary table; it charts each team by position, team name, games played, total goal difference and points

| Position | Team | Played | Goal Difference | Points |
| --- | --- | --- | --- | --- |
| No movement 1 | USA Women | 3 | 3 | 7 |
| No movement 2 | Australia Women | 3 | 0 | 4 |
| No movement 3 | Sweden Women | 3 | 0 | 3 |
| No movement 4 | Nigeria Women | 3 | -3 | 1 |
Group E
Women's World Cup Group E summary table; it charts each team by position, team name, games played, total goal difference and points

| Position | Team | Played | Goal Difference | Points |
| --- | --- | --- | --- | --- |
| No movement 1 | Brazil Women | 3 | 4 | 9 |
| No movement 2 | South Korea Women | 3 | -1 | 4 |
| No movement 3 | Costa Rica Women | 3 | -1 | 2 |
| No movement 4 | Spain Women | 3 | -2 | 1 |
Group F
Women's World Cup Group F summary table; it charts each team by position, team name, games played, total goal difference and points

| Position | Team | Played | Goal Difference | Points |
| --- | --- | --- | --- | --- |
| No movement 1 | France Women | 3 | 4 | 6 |
| No movement 2 | England Women | 3 | 1 | 6 |
| No movement 3 | Colombia Women | 3 | 1 | 4 |
| No movement 4 | Mexico Women | 3 | -6 | 1 |
Live on the BBC
Sun 5 July, 23:30 BST, BBC Two
Explore the BBC
Find out how Lee Selby goes to extreme lengths in order to be the best
SUN 5 JUL

Northumberland Football Association

MON 6 JUL

Wiltshire FA

MON 6 JUL

Beechcroft Tennis and Multi Sports Community Club