Hannah Cockroft says losing to her young rival has spurred her on to achieve success at next month's IPC World Championships.
Weir wins Berlin Marathon title
Six-time Paralympic gold medallist David Weir wins the Berlin Marathon at his second attempt, setting a new British record.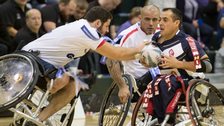 England win Wheelchair Rugby title
England have won the Wheelchair Rugby League European Championship after beating world champions France 28-24.