Pinned Down By The Wind
By Mark Beaumont
We are stuck... for the time being. It's day 5 and the winds are howling from the North East at about 30mph which means that we are hiding out in a relatively sheltered bay. It is only 6 miles to the next bay up the coast but it's not worth beating ourselves up for little progress. The winds are expected to swing to the South tomorrow which should help us on our way again. So we are sitting onboard, being rocked violently and Dave M is already showing the erratic behaviour of a caged animal in this tiny cabin!
The good news is that we are ahead of schedule. The lack of ice and great weather across the Wellington Channel meant that we could cross from Cornwallis Island to Devon Island and carry on north at a great pace. Day 1 out of Resolute was a tough test of for the boat when we got caught in sea ice. Yesterday was the best test of the team as we battled a cracking headwind covering just 18 miles in 10 hours tough rowing.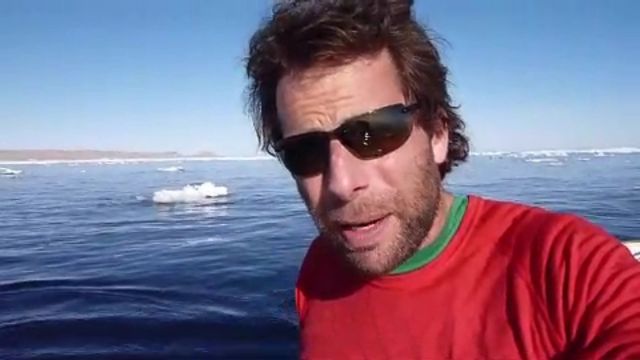 First Video On Board The Ice Boat
Mark reports after his first three hour shift rowing. The weather is being friendly but the South wind means that ice is keeping them at sea. Sea ice at the North Pole is melting and Jock Wishart is attempting to row the Arctic. Joining him is cyclist Mark Beaumont, on board the tiny boat to film the audacious attempt.
And we are now on our own... the small support boat (which we haven't needed for anything other than for BBC producer Matt to film from) turned back to Resolute this morning. So we are all alone, waiting for the winds to change... we believe that this is the furthest north that any unpowered boat has travelled in the Canadian Arctic.
When the going gets tough it's hard to blog, but I will report back whenever time allows!