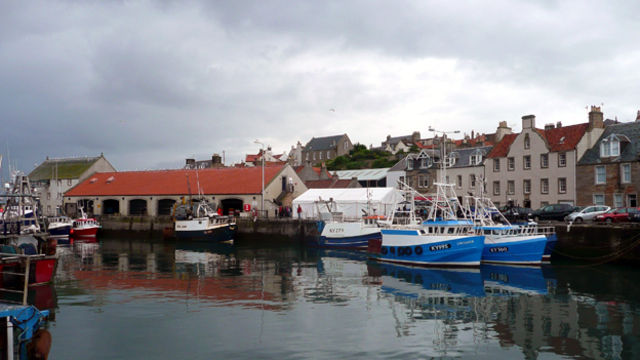 Pittenweem
Iain Stewart visits Pittenweem, now the only village in the East Neuk of Fife with a significant fishing industry. Visiting the Cairngorms, Iain hears there is more to the postcard perfect views than meets the eye Iain discovers the riches of Ariundle oakwoods in Sunart
The village of Pittenweem sits on the Firth of Forth in the East Neuk of Fife. It was the site of an early Christian religious settlement; St Fillan's Cave is believed to have been the site of a retreat of St Fillan in the 7th Century.
The settlement developed as a fishing village, with sheltered beaches that provided a safe place for boats to be hauled ashore. As the fishing industry grew, breakwaters were built. The settlement expanded to the east, where a harbour was constructed, allowing larger boats to anchor. As well as fishing, the harbour was used by boats shipping coal from the nearby mines at Easter Grangemuir and Pathhead. From the 1770s Sir John Anstruther had the harbour expanded to accommodate this trade and the export of salt extracted from sea water at St Monans.
The Fife fishing industry reached its peak with the herring boom of the late 19th and early 20th Century. Since then, the fleet has declined. No longer able to provide sufficient trade for a number of separate harbours, the fishing industry has become concentrated at Pittenweem, while other villages are now more widely used for shellfishing and leisure.
Fife is one of Scotland's 32 unitary council areas. It lies between the Firth of Tay and the Firth of Forth, and borders Perth and Kinross and Clackmannanshire.
Prior to 1996, the area was governed under a two-tier system, with a local government region divided into three districts – Dunfermline, Kirkcaldy and North-East Fife.
Fife is Scotland's third largest local authority area by population. Almost a third of the population live in the three principal towns of Dunfermline, Kirkcaldy and Glenrothes.