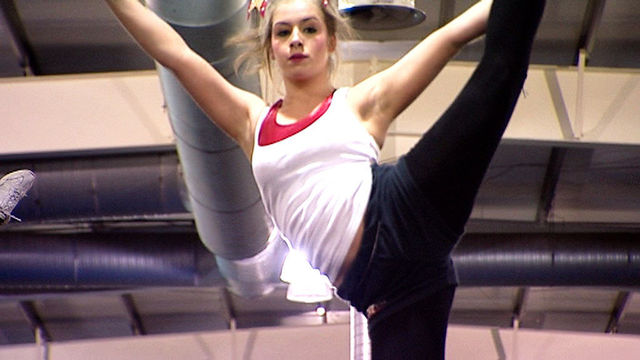 Gold Star Cheer for Scotland
Watch the Gold Star Galaxy team rehearse as they prepare for the Cheerleading and Dance Worlds 2011 in Florida. BBC World Affairs Correspondent Allan Little describes some of the key moments from his career and answer questions about what it is like to report the world in an age of conflict. Bill Boyd reads his poem Hogmanay, written in the style of Robert Burns.
Gold Star
In 1999, Gold Star Cheerleaders were formed by Claire McKay, a former National Football League (NFL) cheerleader for the Scottish Claymores. Claire is now the head coach of 11 championship-winning all-star cheer and dance teams. These teams are split into five sections: tiny, mini, youth, junior and senior. All have names drawn from astronomy to give each team an individual identity.
In 2008, Goldstar Galaxy, a senior level 5 team, were the highest-placed all-girl cheerleading squad in Europe and ranked third in the world. This is the squad about to take on the world in Florida.
Dedication
Twice a week, the 25 girls who make up Gold Star Galaxy meet in various gyms and sports halls in and around Glasgow to practise their routines.
For many of these girls, travelling to America was a dream – let alone competing in a world-level competition in Florida. To turn this dream into reality, each team member took part in fundraising activities: packing bags at supermarket checkouts;, holding raffles; taking part in sponsored marathons; performing demonstration dance shows. With the personal money raised and cheerleading competition winnings, the Gold Star team were able to represent Scotland and compete against the world's best cheer and dance teams.
Britain's Got Cheerleaders
In the UK, cheerleading is not as commercial as in the United States of America, but dance and cheer squads have become increasingly popular due to the television success of So You Think You Can Dance and Britain's Got Talent.
In 2011, Galaxy Gold Star were successful in their first audition in front of the Britain's Got Talent judges on Saturday 16 April.
Follow all the Gold Star news and reaction to the Cheerleading and Dance Worlds in Florida on their Facebook page.