UK Dark Matter Collaboration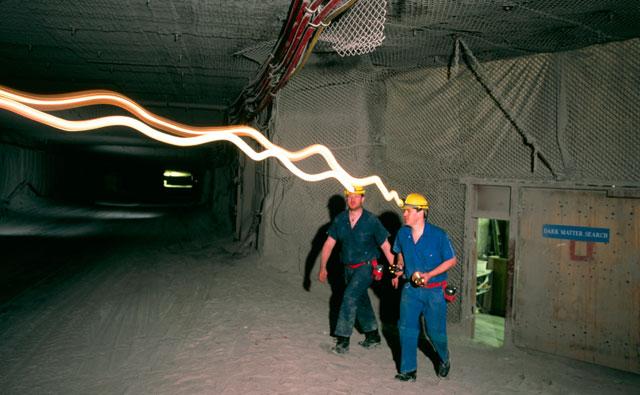 The UK Dark Matter Collaboration was a group of scientists who ran a series of experiments from 1987 to 2007 to discover more about the make-up of the Universe. Using detectors housed 1,100m underground in Boulby mine in the North York Moors, these experiments aimed to discover more about dark matter by searching for evidence of rare scattering events caused by weakly-interacting particles.
Members of the collaboration continue to work on experiments which aim to verify the nature of dark matter.
Image: Long exposure photograph of workers at the UK Dark Matter Collaboration in Boulby Mine (credit: David Parker/SPL)

An underground lab is part of the dark matter search.
Professor Tim Sumner explains how he hunts for elusive dark matter particles in Boulby mine in Yorkshire.
The particle detectors used for the UK Dark Matter Collaboration experiment are housed in a mine deep under the North Yorkshire Moors. The BBC's David Shukman finds out what the scientists are hoping to learn.
About

UK Dark Matter Collaboration
This entry is from Wikipedia, the user-contributed encyclopedia. If you find the content in the 'About' section factually incorrect, defamatory or highly offensive you can edit this article at Wikipedia.