Australian Astronomical Observatory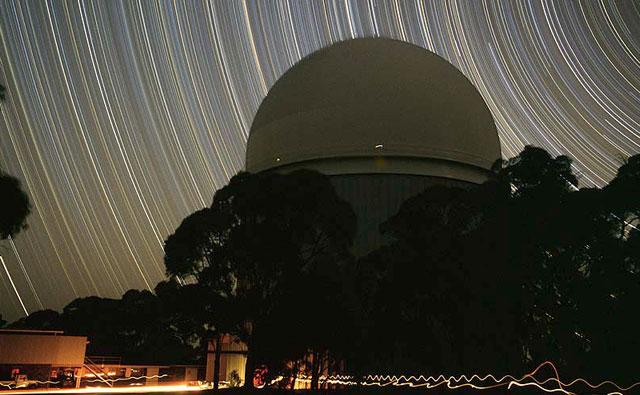 The Australian Astronomical Observatory (formerly the Anglo-Australian Observatory) is located in Siding Spring in New South Wales, Australia, and consists of the Anglo-Australian Telescope (a 3.9m instrument) and the UK Schmidt Telescope (a 1.2m instrument). One of the objectives of the Anglo-Australian Telescope is to find extrasolar planets. The UK Schmidt Telescope began its life by carrying out surveys of the southern sky; it is now being used to measure the velocities of stars in the Milky Way.
Image: Star trails captured in a long exposure photograph of the Anglo-Australian Telescope dome (credit: Australian Astronomical Observatory/David Malin Images)
Watch

and listen to clips from past programmes TV clips [4]

The AAO hunts exoplanets.
Professor Brian Boyle from the Anglo-Australian Observatory explains how observations of a gamma ray burst helped his team discover that it resulted from a supernova and the possible formation of a black hole.
Sir Patrick Moore's guest Professor Richard Ellis from the University of Oxford reviews the world's large observatories and explains their importance. [The black and white images of Edwin Hubble, George Hale, Mount Wilson, the 200-inch telescope and mirror making in this clip are copyright Palomar Observatories/Caltech]
Sir Patrick Moore discusses Supernova 1987a.
Patrick Moore visits the Anglo-Australian Telescope at Siding Springs, Australia, and looks at some of its images.
About

Australian Astronomical Observatory
This entry is from Wikipedia, the user-contributed encyclopedia. If you find the content in the 'About' section factually incorrect, defamatory or highly offensive you can edit this article at Wikipedia.