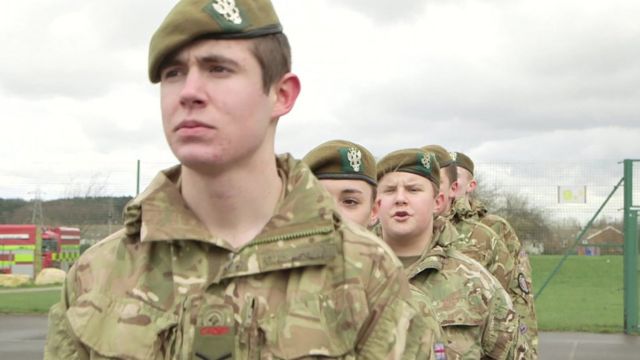 'Should I join the cadets?' pupil asks
22 March 2016 Last updated at 11:53 GMT
A School Reporter from Nottinghamshire went to neighbouring school to find out what having a cadet force might be like.
As he explains, a new government scheme is aiming to build cadet forces in 500 state schools in England by 2020.
While he found out there were benefits, such as building confidence and leadership skills, he wasn't afraid to ask both Capt Simon Mann, who led the introductory course, and his own principal, Mr Croft, some hard questions.
Capt Mann insisted that project was not an army recruitment drive but was in fact a military-themed youth organisation.
And Mr Croft said that while he personally had no reservations about the school introducing the cadet scheme, some of his senior leadership team felt that a link to the military was not such a good thing for the school.
The Reporter's fellow pupils were generally in favour of the scheme, with one girl saying she would definitely join and another saying it would be a good thing to put on her CV, although one boy was concerned about weapons falling into the wrong hands.