Teenagers gain insight into Syrian life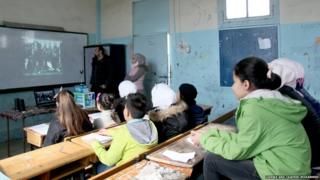 BBC School Reporters at Oaklands School in east London have had a unique insight into the lives of children living in war-torn Syria.
A Year 10 class at Oaklands has linked up with a group of Palestinian refugee children in a school in Damascus run by United Nations agency UNRWA.
The My Voice My School project allows UK pupils to have online video chats with refugees in these UN-run schools.
UNRWA helps Palestinian refugees in many parts of the Middle East.
A recent report by the fund set up by campaigner Malala Yousafzai found almost half the estimated four million children displaced in the region are not in school and she has called for more to be done to educate millions of Syrian refugee children displaced within the country and its neighbours.
Over the past few months, in a series of three video calls, the children in London and Damascus have found out more about the importance of education in all their lives.
And they shared ideas for ways of improving life at school in both cities.
Oaklands student Jummah, who took part in the video calls, said: "They told us that every day coming to school is basically risking their lives.
"When they come to school they treat their mothers as if they are not going to see them again. That really made us feel sad."
The conversations were not all serious, however, and the calls included a lot of fun - and singing!
And the students bonded across the internet through their love of pop music.