Foreign students are welcome, say UK university applicants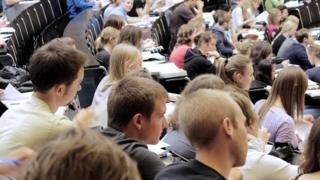 Most UK university applicants believe studying alongside foreign students will help prepare them for work in a globalised economy, a survey suggests.
Some 87% of 500 UK applicants to university believed having foreign students on their courses would give them a better world view.
The research was carried out by YouthSight and the Higher Education Policy Institute in February.
HEPI director Nick Hillman called the results "overwhelmingly positive".
Of the applicants, who were recruited through the UCAS admissions service, 85% said studying with international students would help prepare them for working life.
'Global citizens'
More than three quarters (76%) welcomed the chance to develop a worldwide network of contacts, and 68% hoped to practise foreign language skills.
UK universities recruit more international students than any other country apart from the United States, says the study, with undergraduates from outside the UK making up 18% of the student body.
However, the researchers report that competition for international students is fierce and they fear the UK faces a possible decline in its "market share of new international students".
International students are worth an estimated £10bn or more a year, says the report, "but less is known about the educational benefits and what home students think of studying alongside people from other countries".
Some 84% of applicants said they expected to study alongside international students, while 68% had already encountered them at school or college.
67% did not expect international students to lower the quality of academic discussions, though 11% feared they would.
42% said students with English as an additional language would not slow down classes, though 29% said they might.
39% said international students were unlikely to need more attention from teaching staff, though 29% feared they could.
Mr Hillman said the results showed today's school leavers "truly are tomorrow's global citizens".
'Soft power'
"UK policymakers have a tendency to exaggerate the costs and underestimate the benefits of students from abroad," said Mr Hillman
He called on the Home Office to commission a full review of the costs and benefits of international students to the UK, and to give other government departments a say in setting migration policy.
"They understand the educational and soft power benefits of educating people from other countries and could provide a counterweight to the Home Office's different priorities," he said.
Immigration and Security Minister James Brokenshire said the government had been very clear there was no limit on numbers of international students who could study in the UK.
But he said the latest Office for National Statistics estimate showed that while 133,000 non-EU students had come to Britain only about 48,000 had left the country.
"This is why this government had to take action to tackle abuse in this area whilst continuing to attract the brightest and the best," he said.
"The latest figures show this strategy is working, with an 18% increase in the number of visa applications from those going to universities and a 30% rise for the elite Russell Group universities since this government came to power."
The survey was funded by Kaplan International which helps more than 6,500 foreign students each year to apply to UK universities.