Comic Relief: How Eboni's Kenya trip 'changed everything'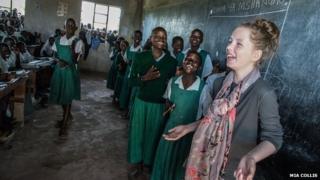 Eboni, who is in the year above us at school, got the chance to go to Kenya as part of Comic Relief - and she said it "changed everything" for her.
She spent time with a girl called Violet, who is still only nine but has been an orphan since she was four and has to help look after the grandma who is really sick.
Eboni spent her time like Violet, doing all the chores that Violet has to do every day.
In England we would normally expect our parents to do it for us but now Eboni said she'd come back with a different perspective and tries to help with everything at home.
Before she went, Eboni was nervous and even thought she didn't want to go but she had such an amazing experience.
When she was due to come home, she took all her clothes and gave them to Violet and told her to keep them.
They were both so happy. Violet said that Eboni was "an angel" who had been sent down to help them and they both ended up bursting into tears because they were so happy.
Eboni has been on Blue Peter and will be on the Comic Relief programme on Friday, and she's really excited about that.
People want to be on TV and she will actually get the chance to do it.
She said she was "astonished" that one trip for three days changed everything: from being on TV to changing the way she thought about helping at home and people who live in Africa.
For us, it was really interesting to get to interview Eboni and to think like journalists.
We spoke to her for seven or eight minutes but we spent more than an hour preparing.
It was a team effort and we tried to come up with questions that would come up with new information because she'd already done an assembly at school.
After hearing Eboni's story we all think a bit differently too.
You see things on TV and wonder how you can help and Eboni actually got the chance to go and help people and now we think if one girl can make a difference how many others could as well?
We definitely help at home more too!