Take the new School Report Computing Challenge
11 September 2014

From the section

Home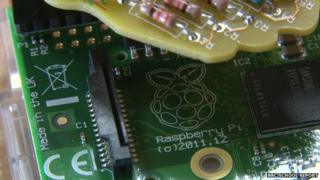 As the new computing curriculum is introduced into schools in England and the BBC launches its Make it Digital campaign we're giving School Reporters the chance to join in.
We are launching a new Computing Challenge for the 2014/15 academic year and asking School Reporters to take part and collect custom-made badges for your School Report websites every time you complete a task.
The Challenge incorporates some of the tasks which are completed on a daily basis at the BBC and utilises the skills listed in the new English schools' computing curriculum for 2014/15.
CHALLENGE ONE The first challenge will open up students' digital creativity as they will be tasked with designing their School Report webpage.
CHALLENGE TWO Many news stories are based on survey results and so our second challenge allows students to use their journalistic skills to report on the use and impact of technology.
CHALLENGE THREE Our third challenge gives students the chance to get coding by figuring out the workings of their website and adding some dynamic content.
CHALLENGE FOUR The final challenge requires students to use computational thinking to solve a real-world problem or issue.
The Rules
There are four computing challenges listed below. You can choose to complete one, all, or as many of them as you like and they do not have to be done in the order in which they are listed.
Each of the challenges corresponds to the new computing curriculum and some are more difficult than others. Enlist the help of your Computing department and get them involved in helping your school to complete the challenges if you are stuck.
The Rewards
For each challenge completed you will receive a custom-made School Report badge for your School Report website.
If you collect all four badges you will receive a special fifth badge to show that you have completed the challenges and after News Day we will send you a certificate confirming you as a School Report Computing Challenge School.
Once a challenge is done, you need to notify us by sending an email with a link showing the finished task to schoolreport@bbc.co.uk
Put Computer Challenge and the number of the task you have completed in the subject line and more details and, of course, the name of your school in the body of the email.
Collect all the hexagonal badges and put them together to create a shape.
Maybe you could push the boat out and design your own logos to include your school's crest/name and play around with different shapes like the ones on the right.
CHALLENGE ONE - WEB DESIGN
Make a School Report webpage containing some unique content.
Every school that takes part in School Report has to make its own dedicated webpage for their content.
We always ask schools to create a dedicated School Report webpage to host all of your news reports, put up a holding message and add the School Report logo and banners to launch the page.
You then need to send us the URL so we can link to your page from our map of participating schools, which means all of your content is available via bbc.co.uk.
However to complete this challenge we want you to go one step further and show some digital creativity in adding at least one piece of unique content of your own.
This could be an audio, video or text report, a photo of your School Report team or newsroom, or maybe a microphone cube challenge photo or something else which you have created.
Be as creative as you like - as you can see from the picture above, last year Dartford Grammar School produced a superb website, although we think we have seen the design somewhere before....
CHALLENGE TWO - REPORTING TECHNOLOGY
Do a report on technology use in the school.
Carry out a questionnaire or survey and display these results as part of a report on your School Report website using infographics.
Speak to students at the school, record useful information about their use of technology and analyse the results for your piece.
You could even do a report around Safer Internet Day on 10 February, which is also School Report's third Practice News Day.
OR
Do a computing-related story involving interviews with local technology experts.
Get the students to research technology in the local area or within the school and find someone to interview. Upload the story to your School Report website.
CHALLENGE THREE - GET CODING
Create a countdown clock to News Day on your School Report webpage.
Excited about News Day? Create a timed deadline for News Day and have a go at featuring a graphic that ticks down the days, hours, minutes and seconds until 19 March. Take a look at St Matthews RC High School's clock from last year as an example of what you could produce.
OR
Create and run a live text page.
Give everyone a step-by-step timed update of all the happenings at your school and run a live text commentary on any of the four Practice News Days, on 14 November, 11 December, 21 January and 10 February, or on News Day itself on 19 March. For inspiration take a look at our own 2014 News Day live page.
OR
Display a live video feed on your school website.
If you're covering an event or have got your School Reporters out and about reporting in the field, set up a live feed going back to your website for everyone to follow.
It does not have to be all day, you can have a live feed up for an hour or maybe during the lunch break.
CHALLENGE FOUR - FURTHER COMPUTATIONAL THINKING
Create a weather station involving some coding, collect the data and present it in a way to report the weather in their area.
You can use a device such as a Raspberry Pi to set up your weather station and programme it to start collecting data. Take a look at these two schools doing it:
OR
Create your own challenge to solve a local problem and report it using a range of formats on your School Report webpage on News Day.
Get creative and find a way to use coding to solve a local problem - e.g. you could monitor litter levels, rainwater, wildlife population, or find another local issue which needs to be resolved.
OR
Create a game to be used as a learning device.
Design a digital game based on a particular subject at school and that can help support your learning e.g. a quiz based on any subject.
When do the challenges need to be completed?
There are no set deadlines for the challenges, you can complete them between now and News Day - but we recommend you starting as early as possible.
For Challenge One - the sooner you can set up your webpage, the better. We recommend having your webpage set up by the 14 November Practice News Day - the quicker your website is set up the more chance you have to showcase your students' work.
Each Practice News Day we will be giving schools that have completed challenges a mention on our website. The more challenges you do the more mentions you will get, which means you'll get an increase in exposure of your students' work - so get coding!
Once you have completed a challenge send an email with a link to your completed work to schoolreport@bbc.co.uk. Make sure your Challenge number and school name are in the subject heading.