Exploring the story of BBC children's TV at new exhibition in Salford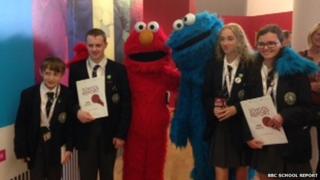 Phoebe, Beth, Jack and Matthew from Urmston Grammar School in Trafford attended a preview of the new exhibition about the history of BBC Children's broadcasting. Here is their report.
We can't imagine life without TV as most of what we did as children revolved around watching programmes, but at the BBC Children's TV exhibition, we learnt that it all started on the radio.
The BBC first broadcast Children's Hour on the wireless in 1922. Since then, children's broadcasting has changed a lot over the years. There's a fantastic timeline that shows where it all began and brings you right up to the present day.
The exhibition, at The Lowry in Salford Quays, is called Here's One We Made Earlier - a catchphrase taken from the longest-running children's TV programme in the world, Blue Peter.
We were nervous but excited to interview Radzi Chinyanganya, their newest presenter.
We asked why Blue Peter has lasted so long and why it's important. He said: "It stands for everything I love most about children's TV, which is giving kids stuff they can learn, giving kids stuff that entertains them and giving kids stuff that inspires them."
Lindsey Russell, who beat 20,000 hopefuls to be voted as the 36th Blue Peter presenter, thinks it's the best job in the world.
She said: "I think the best thing about Blue Peter is the message it gives you, which is that if you set your mind to do something, you need to try at it 100% and you can probably do it. There's nothing you can't do and Blue Peter's proven that to me."
They were really friendly and really opened up about why they love children's TV, but it wasn't just new stars on show - the old favourites Bagpuss, the Clangers and Muffin the Mule were on display.
We also spoke to Joe Godwin, Director of Children's at the BBC. He told us that the exhibition is for everyone, not just for children but that it's important to see where children's TV has come from so we can help decide where it's going next.
We were surprised to see just how big the actual Teletubbies puppets were - Tinky Winky was taller than us!
It was a real treat and something that people of all ages will enjoy. It even gave us a sneak peak at what the future of children's TV could look like with an impressive interactive wall.
No matter how old we are though, and how technology changes, there will always be a special place in our hearts for our favourite characters.
The exhibition opens on Saturday 19 July and is open until Sunday 12 October.