Harrogate steps up a gear for the Tour de France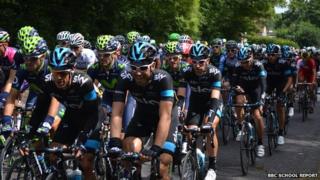 Le Tour proved that Harrogate's community spirit is strong and we enjoyed the good local vibes. It was like being on a really nice day out, without leaving your home!
One thing we all found was that we got to know our neighbours better and mostly found out that we really like them.
Le Tour brought everyone out of their houses and into the streets together and we've made friendships we hope to keep.
Some of our personal experiences of Le Tour
Luke, Year 9: "On Sunday, there was a buzz in the air. We got into place on Skipton Road just before the caravan went through and in time to see the police warning an over-eager spectator to stand back. We got a really good view of the race, which we didn't expect as it was so busy."
Nikita, Year 10: "It all started for me on Friday night when I saw three helicopters flying over my street. This made me realise how big this event was going to be. I chose to watch Stage 1 at home and I was sad when Mark Cavendish fell, as I had written a whole article on how I was sure he was going to win!
"On Sunday I decided to make the most of it by watching the riders go down Skipton Road. The crowd were getting prepared for the riders to come through and everyone was doing Mexican waves and trying to shove their phones really far out into the road to take better pictures.
"The riders were so fast - when I watched the TV on Saturday they looked effortless and I wasn't expecting it to whizz by as fast as it did."
Katie, Year 10: "On Sunday I went to see Le Tour on Skipton Road, which was only 10 seconds from my house! The atmosphere was amazing. The whole street was out with their deckchairs and cups of tea.
"At 10:00 BST everyone was coming out of their houses so me and my mum went out too, in our pyjamas. Then we got told it wasn't coming until 12.00, but everywhere was so packed we thought it must be nearly time!
"By the time 12.00 came everyone was cheering, taking photos and waving flags."
Leigh, Year 10: "We started our celebration on Friday evening with a French dinner party, where we wore berets and drew curly moustaches with a marker. It was fun to discover more about typical French food.
"On Sunday, I walked up to the fire station on Skipton Road and we had a surprisingly good view due to my little cousin crying so much that people moved away!
"I even saw someone dressed as a pig - not sure why, but it was fun! I ended the day happy that I'd been part of this once-in-a-lifetime opportunity!"
___________________________________________________________________________________________________
As you can see from our experiences, Le Tour was a big success and it turned out even better than we expected.
We'll be doing our bit to make sure the friendly atmosphere the cyclists brought with them will continue long after they have arrived in Paris.
Harrogate truly came alive the day the Tour De France came to town!
We were expecting excitement around the cyclists, but we also found that the crowds themselves were just as thrilling!