Tour de France double win for Yorkshire students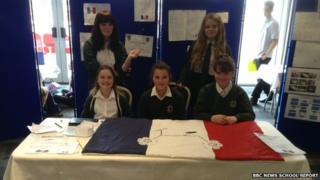 Twenty-four talented and entrepreneurial Year 8 girls from Wickersley School & Sports College completed a Stem project (Sustainable Together through Environmental Management), based around the idea of creating a souvenir for 'Le Grand Depart' - the Tour de France's opening two stages being held in Yorkshire this year.
The girls designed and produced some amazing products including mugs, clocks and charm bracelets. They also did lots of work around costing and profit/loss.
The girls were invited to present their business models at a special event at the New York Stadium in Rotherham, where judges from many international companies quizzed them about their products and business models.
These judges were very impressed with how well our teams knew their businesses inside out, many going above and beyond our expectations.
Our girls were competing against teams form schools across South Yorkshire, including all age groups (up to sixth formers). Out of four prizes awarded for Tour de France projects, our Wickersley teams won two!
The two winning teams produced mobile phone covers and the blanket in a bag, which also won best overall Tour de France souvenir.
Well done to all of the girls that took part - Lord Sugar, watch out!
The girls talked about their experiences of being involved with the competition:
Q. What was the inspiration behind your product?
Well, the blanket itself is a French flag, this represents the French theme overall. Then we have the bike which is what the Tour de France is all about, cycling in a race and using these amazing bikes! Finally, the Yorkshire roses we have set as wheels represent the Tour de France coming to Yorkshire for the first time.
Overall, we wanted this blanket to bring a warm welcoming feeling to people who are not familiar with the Tour de France, so that they remember their first time they came to watch it.
Q. What challenges did you face when making your product?
The challenges we faced whilst making the products were mainly about the placement of the gems and how time-consuming it was to place each one down neatly and correctly.
Also we found it difficult to get hold of the phone cases we needed but we got them in the end! Finally, the glue was very tricky to handle as it stuck to anything and everything!
Q. What did you enjoy most about making your product?
We enjoyed working in a team and overcoming difficult challenges together. It was a fun and new project that none of us had ever participated in before. It was a great new experience which could help for future references.
Overall, it was a very enjoyable experience that taught us lots about teamwork and how much engineering and maths are used not only in the classroom but in future jobs as well.
Q. What sort of questions were you asked by the judges at New York Stadium?
The judges mainly asked about how we dealt with the problems that we faced. They also asked how we would mass produce our product and how much profit we would make. Moreover, they asked about why we chose phone cases rather than choosing other ideas. Finally, they asked about where we would sell our products and why.
The questions varied from "how did you make the product?" to "what is the manufacturing cost of seven blankets in bags?" As a team, we focused on different aspects such as cost, purpose and the manufacturing process. We even made our own jingle!
Although many of the questions were difficult, we always had a smile on our faces and made the experience more enjoyable.
Q. What were the best experiences whilst making your product?
Firstly, it has to be that we were given this completely amazing opportunity to make a product that no-one would of ever have thought of. It also included working with my favourite teachers who have been so kind and respectful to all of us and just spending a little more time with my friends and getting to know new ones too.
Whilst making these products we have had so much fun and there was something in making our product that I had never done before so I was learning something new every step of the way.
The thing that has highlighted this whole activity would have to be the funny ups and downs we've had such as:
1.Not knowing which way the French flag goes
2.Losing all the pins
3.Worrying if the blanket would fit in the bag or not
4.Sewing the Yorkshire roses on the wrong way round and then ending up starting the whole thing over again!
But it has all been really enjoyable and I have had the most amazing experience. Winning the competition made it a million times better because it showed that the judges knew how hard we worked for this.
Thank you so much to Wickersley School and Sports College and the teachers for organising it and for all your hard work and encouragement!