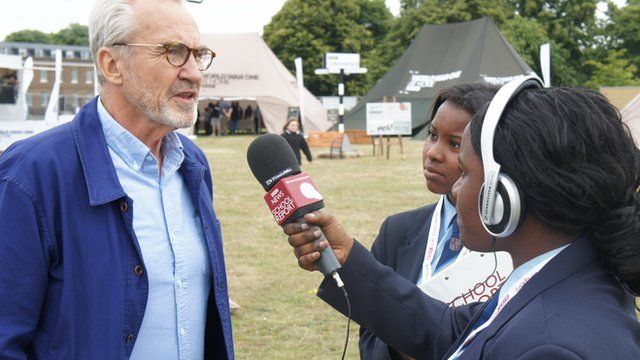 Former EastEnders star Larry Lamb explains his World War One interest
27 June 2014 Last updated at 17:02 BST
Former EastEnders star Larry Lamb has a special interest in World War One. Lamb, who played Archie Mitchell in the BBC soap opera, explained to BBC News School Reporters Imanuella and Safara from Erith School that he had two important people in his life who fought in the conflict and believes it is important for the younger generation to remember what happened.
He was speaking at the BBC World War One at Home Roadshow at Woolwich Barracks, at which he gave a talk. The event is one of many happening around the country and aims to teach people about the dramatic impact the war had on families and communities.
The Reporters had a look around the activities taking place on the site and interviewed nurses, military personnel and volunteers.