Whitley Academy plays host to US performers Girl Be Heard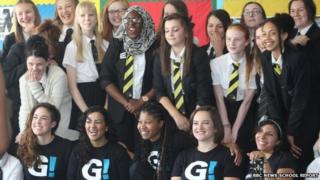 Very recently the Girl Be Heard (GBH) Theatre Group paid a visit to Whitley Academy to perform and talk to our Year 10 students. The event was supported by the US Embassy in London.
Girl Be Heard is a New York-based and non-profit theatre group that uses theatrical performances to bring global issues affecting girls to audiences worldwide.
Led by Jessica Greer Morris, Executive Director and Co-Founder of GBH, the group came to Whitley Academy to share their stories and say how they could help other girls to tell their stories and positively move on in their lives, while helping others.
Jessica started their performance with a PowerPoint presentation. We then came to realise that the group started in 2008 with only eight girls. Now they have more than 100 members.
The group has performed at the White House, State Department and at the United Nations. This time they were on a European tour to London, Geneva and Copenhagen.
We were also told about the Group's special performance for William Hague (our British Secretary of State for Foreign and Commonwealth Affairs) and Angelina Jolie. How amazing!
Jessica also mentioned that they had provisions for 12 to 21-year-olds on a Sunday where girls could go and talk about themselves.
After the presentation the girls went on stage and performed their inspirational, heartfelt stories.
In fact they made some personal stories into professional theatre performances which have now become award-winning shows.