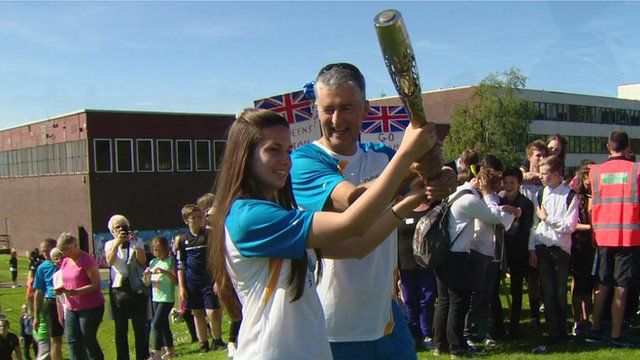 Newbattle High School celebrates Queen's Baton Relay moment
23 June 2014 Last updated at 14:35 BST
Three students and a teacher from Newbattle Community High School in Midlothian had the honour of carrying the Queen's Baton as part of the Relay leading up to the Commonwealth Games in Glasgow
School Reporter Rachel spoke to baton-bearers Abby and Darren and PE teacher Mr Foley about being selected for the role and what it meant to them.
Rachel also interviewed Steve Frew, who gained Scotland's first ever gymnastics Commonwealth gold medal at the 2002 Games in Manchester, and Olympian Susan Egelstaff, formerly the highest ranked female badminton player in the UK. They told her about how the Queen's Baton Relay and Glasgow 2014 could inspire communities and young people.
This video was made in partnership with BBC Commonwealth Class.