Sign up your school for BBC News School Report in 2014-15
25 July 2014

From the section

Home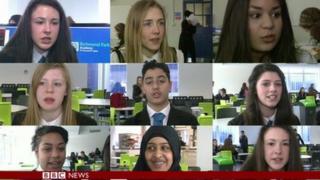 The new term has started and we're already gearing up for the ninth School Report News Day on March 19 2015.
School Report has grown year on year. In 2013-14 a total of 1,082 schools and more than 30,000 School Reporters took part and we hope the numbers will be even higher next time.
To start receiving e-mail updates from us, register for our mailing list and if you're ready to sign up, you can find the School Report paperwork here.
Ready to start making reporting plans for next year? Why not take part in a School Report assignment? We have lots of ideas for School Reporters, including writing their own reports on matches in the qualifying rounds of the FA Cup.
Don't forget, the next School Report News Day is on Thursday, 19 March 2015 - put the date in your diary!
What is BBC News School Report?
BBC News School Report gives 11-16 year-old students in the UK the chance to make their own news reports for a real audience.
It is a collaborative project run by BBC News and BBC Learning.
Using lesson plans and materials from this website, and with support from BBC staff and partners, teachers help students develop their journalistic skills to become School Reporters.
In March, schools take part in an annual News Day, simultaneously creating video, audio and text-based news reports to a deadline, and publishing them on a school website, to which the BBC links.
School Reporters produced a stunning array of content on 27 March 2014, which was the biggest School Report News Day to date.
Big names interviewed Education Secretary for England Michael Gove, Winter Olympics gold medallist Lizzy Yarnold and stars of the Muppets - Kermit and Miss Piggy.
School Reporters also co-hosted several live programmes across the BBC including a special edition of The One Show, Radio 4's Woman's Hour and a two-hour show on BBC Radio Humberside.
In addition, all of the weather forecasts in the evening news across the UK were read by students taking part in the project.
The ninth News Day will be held on Thursday, 19 March 2015 and we hope it will be even bigger and better.
Students can report on anything which interests them, whether it is a local or national issue, a big or small story or something very personal to them.
Sometimes we have reporting opportunities which we can offer out to schools who have signed up to take part in the project.
Some stories are featured on our website but each participating school needs to set up their own website on which to feature all their content. We then link to those sites from the School Report website so that all of the School Reporters' articles, reports and features are accessible via www.bbc.co.uk
How does my school get involved?
Joining the project could not be easier!
Simply complete your essential School Report paperwork of two forms and you are almost there.
Form 1 lets us know that you are taking part in the project this year, and entitles you to use unique School Report branding, to appear on the School Report map, to take part in monthly Practice News Days, and receive one-to-one advice from BBC members of staff, either by phone, email or sometimes in person.
Form 2 tells us you have individual consent from parents for every single student who is taking part in the project.
What will be the benefit to my students?
Teachers whose students took part in the 2014 BBC News School Report explain why it has had such a positive impact on the children.
They explain the benefits of working with the BBC and how keen they are to take part in the project again.
The pupils also say what it has meant to them to be working in partnership with the BBC.